Magnolia
(Nolie)
Today Magnolia, our dear Basset Hound, went to the Rainbow Bridge. It was very difficult for Jamie and me. But she was suffering so much that we decided it was time. She was not yet seven years old.
We called her Nolie–after the character in Show Boat.
I have had Basset Hounds for 46 years and they have been a big presence in our lives. I named my little music business Basset Hound Music and my record label is Basset Hound Records. 20 years ago I built a big music room onto our home and named it Basset Hall. Throughout our home we have dozens of Basset figurines. One of my CDs and a song I wrote was called "The Basset Hound Blues". It and all of my subsequent solo CDs ended with "Dog Tags" (basset howls).
We've had many Bassets: Barney, Beauregard, Stanley, Augustus (Gus), Calhoun, Buford and Magnolia (mostly southern names). They are wonderful pets, friendly, funny, cute, and "laid back"—a perfect dog for a tuba player. In fact we have inspired many fine tuba players all over the world to get Basset Hounds. They should be the official dog of the tuba world.
Nolie was our first female Basset and likely our last Basset. She was the first to be brown and white–all of the others were tricolor. Nolie was beautiful in every way—pretty to see, warm, friendly and gentle. Like all pretty girls, she seemed to know it too! She loved to have me chase her with a toy around (and around and around) the house.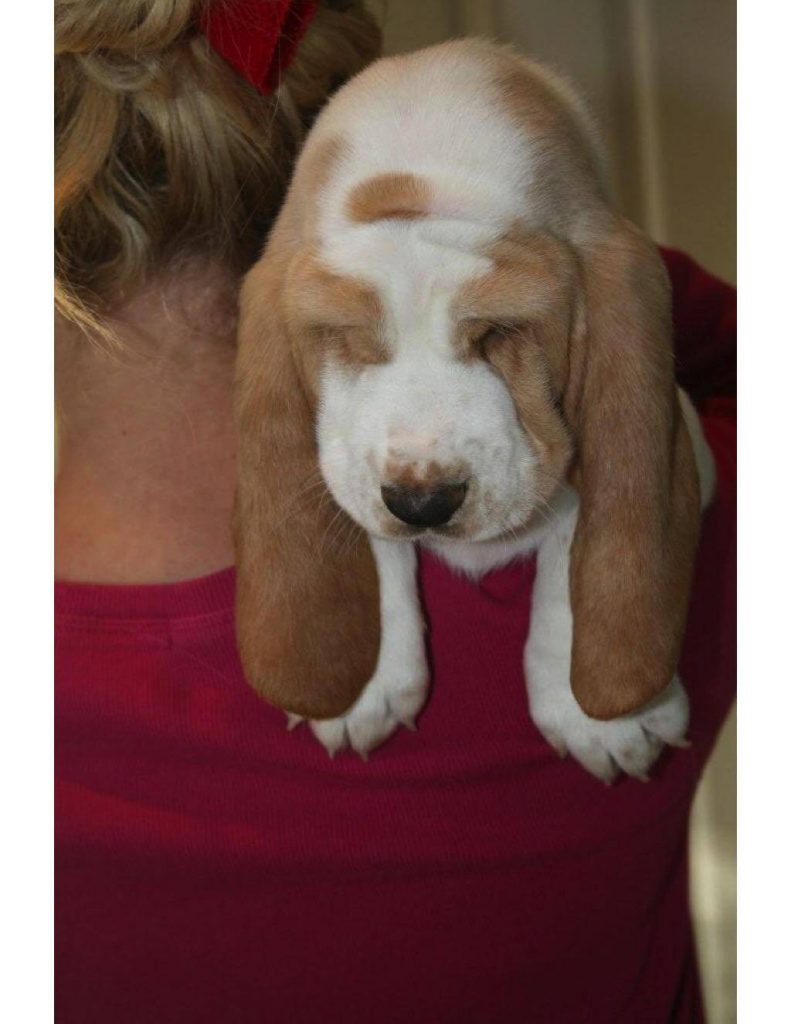 Nolie as a puppy
She was a pedigree from one of the most prestigious Basset lineages in Southern California. Our grandson Omar and Jamie picked her out of a litter of six. Her father and mother were both big time champions show dogs.
Unfortunately in Basset Hounds (and many others) this inbreeding causes a myriad of health issues. They breed Bassets to be long and low with long ears, big feet and drooping eyes. But many also have bad backs and kidney, skin and eye ailments. Nolie had some of these and her spine began to fuse. Finally she had a bad case of arthritis in her right rear hip. I have some arthritis in my right knee and could sympathize with her—especially getting up after sitting for some time. But humans just suffer while dogs yelp in pain. It became so bad that Nolie could not climb even one step, go out the dog door or take walks. The pain medicine just wiped her out and caused her constipation. The vet said she would never be better. It was nearly impossible for her to "be a dog" or have any quality of life. So we made the difficult decision to end it.
Jamie and I are at an age where the care of another dog is getting to be too much to handle. So much of my life has been spent with a Basset Hound that I am not sure how I will cope. I really identified with our dogs!
Nolie was so nice, we loved her and she will be missed.
Jim Self
5/10/16