At the end of May I spent one of most interesting and important weeks of my life. Jamie and I attended the International Tuba Euphonium Conference at Indiana University. The subtitle for this conference was "Where It All Began", a reference to the first conference in 1973 hosted by Harvey Phillips–there at Bloomington. At age 29 I was honored to be a guest artist and a member of the planning committee at that 1st amazing event. I have often said that it was the most important event in the history of the tuba and euphonium. This year's conference was meant to honor 1973 and to demonstrate the great progress our instruments have made in those 41 years. They have been the years of my career as a tuba player and teacher and are mirrored by my experiences. The connections I have with people in ITEA are among the most important of my life.
This year our host was my dear friend Dan Perantoni who, fittingly, holds the same tuba professorship at IU as Harvey Phillips (and before him, William Bell).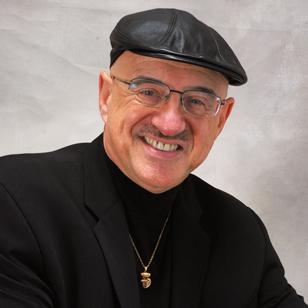 Mr. P
Back in the late '60's, during our years together in The US Army Band, Washington, DC, Dan and I were students of our mentor Harvey Phillips (in New York City) and our careers were greatly shaped by his example. Dan's career has been as a professor, international tuba artist and instrument maker; mine has been mostly in Los Angeles as a studio and orchestral musician. We have both been leaders in the ITEA (formerly TUBA) from its beginning. We have seen and participated in the golden years of the growth of our instrument.
Jamie and I have a close friendship with Dan and his beautiful wife Judy. They invited us to stay in their spectacular home during the conference (I call it a mansion). Dear friend Winston Morris (another key leader in the history of the tuba) was also a house guest, as were European artists Sergio Carolino and Roland Szentpali. These last two are much younger and are among the virtuosi who are leading us into the future. The week at Dan and Judy's was filled with great food and cheer and a lot of fun and camaraderie. Their home was also the location for several larger parties and the social center for many artists and students. Judy Perantoni was a wonderful hostess. On Tuesday evening they graciously invited all of the USC students and alumni to share a party with many of the greatest tuba and euphonium artists in the world. It was a great experience for them.
For the USC group the lead up to ITEC 2014 was 2 years in planning. The USC Bass Tuba Quartet was formed about three years ago and competed at the 2012 ITEC in Linz, Austria. They took 3rd prize and came home very proud and determined to do better the next time. Among the judges' criticisms in Linz were that they played too much contemporary music and used hand conducting gestures. It was the first time an all tuba group had participated in the competition. We chose to have the quartet sit in a straight line so their bells would all point in the same direction –for balance to the audience. It presented some challenges for eye contact between the players. This time they worked it out with breath and with bell movements. I also thought we needed a super piece to present at IU and commissioned composer James Grant to write a piece that was virtuostic for all four F tubas. It became the centerpiece of the final round in the competition. Our class at USC is 6 tubas (no euphoniums) and Norm Pearson and I wanted them all to attend and perform at ITEC. We spent the year raising funds to afford to have them go to Indiana. USC Dean Cutietta, Wind and
Percussion Chair, Terry Cravens and others helped us raise the money. We were able to play a feature USC concert at ITEC and the Quartet entered and won 1st prize in the Ensemble Competition. We were all so elated and proud.
The tuba students came on Saturday because the Ensemble semi-final was midday Sunday. Because of work I had to take a red eye to get there in time. That put me on a jet lag schedule and I was tired for the rest of the week. Well, the USC Bass Tuba Quartet made the finals. I took them all for Elk burgers after. Jamie arrived on Monday after her bout on another red eye flight.
For the rest of the week I spent almost every waking hour listening to concerts, recitals, lectures and master classes by so many friends and former students. The greatest of the world's tuba and euphonium players were there. Many have been heroes of mine like Roger Bobo, John Stevens, Winston Morris, Marty Erickson, Brian Bowman and on and on. Many are the giants of the present. There are so many that to name them would take several paragraphs. It was also gratifying to see so many USC grads and former students appearing as artists at the conference: Norm Pearson, Gene Pokorny, Zach Collins, Beth Mitchell, David McLemore, Dave Holben, Blake Cooper, Tom Lukowicz, Loren Marsteller, and other former students like Jeff Anderson and Pat Sheridan–they are all doing great things as players and teachers.
I will relate some of my feelings while attending as many of the concerts and clinics as I could fit in. Alas, there were too many conflicts but I did my best. Having been in the tuba "business" for over 50 years, it is amazing to see the enormous improvement in technique and literature. It all started here in 1973 and it is wonderful to see how far we have come.
On Monday at midday Winston Morris and his Tennessee Tech Tuba Ensemble opened the conference with a beautiful concert of originals and arrangements. I believe there were 27 students on stage and it was played with beauty and perfection. Winston is an amazing teacher who gets professional level performances out of undergraduate Music Ed majors. They have been an important part of ITECs since the beginning and for nearly 50 years they have defined the large tuba ensemble genre.
President Jerry Young asked me to introduce several of the concerts and clinics that week. The first was a session comparing CC and BBb tubas by Gene Pokorny and Tony Kniffen. I have this neat Basset Hound shirt and introduced them with it on. (Gene and I are Basset enthusiasts) It caused quite a guffaw from Gene and the audience. Later that afternoon I went to the small ensemble final and heard all five groups—the competition was fierce. (We later found out that our USC Bass Tuba Quartet won 1st Prize).
At 6 PM we had our "dress" rehearsal for the USC Tubas down in the bowels of "round" building. The big Monday night concert featured a low brass octet from the famous Brass Band of Battle Creek followed by the Boston Brass Quintet with newly returned tubist Sam Pilafian—and special guest Pat Sheridan (another former student of mine). What fine groups. Pat nearly brought me to tears with the beautiful, super high, flawless ballad. We were all entertained and amazed. The late evening was spent with the Perantoni's and guests.
Tuesday was a big day for me. Early in the morning I went to Chris Combest's recital. He performed my Wink 'n Jinks for Solo Tuba and Trombone Quartet and it was terrific. What a great experience to hear one's music played so well. Later that morning the Symbiosis Duo of Gail Robertson and Stacy Baker played the world premier of my new piece, Intrepideedoodah with Trumpet and Piano. Than again that morning I attended a clinic presented by Jeff Anderson and the entire San Francisco Trombone section. It was very informative. Jeff studied briefly with me in the late 80s and it's great to watch his success. That afternoon I attended a recital by James Shearer and David Salzman that featured two of my favorite pieces Manny Album's Quintet for Tuba and Strings and David Baker's Sonata for Tuba and String Quartet. I then introduced my LA compatriot, euphoniumist Loren Marsteller, who gave a lecture called "The Pretty Note".
At 7 PM the USC Thornton Tubas presented our concert in the main hall– MAC. All of the rehearsing paid off. The six tubas played great. We started with each player improvising a "lick" followed by some big chords—as an intro. Then Norm conducted his arrangement of Anton Reicha's Allegro scherzando and I conducted my 2010 piece for six tubas, The Shadow Knows. Hollywood arranger Roger Neumann wrote us a beautiful six tuba chart on the great jazz ballad, Soul Eyes. Then the USC Bass Tuba Quartet played their special piece, Whiplash, commissioned for the conference. Composer James Grant gave an intro to this spectacular piece and the quartet played the heck out of it. We finished the concert with our DMA student, Brandon Davis' new composition Tuba March Mash-up. It is a clever mix of Sousa's Star and Stripes Forever with solo interpolations of many well-known tuba symphony excerpts–kind of like Charles Ives with some dissonant clashes and surprising juxtapositions. Each new excerpt brought belly laughs from the large audience.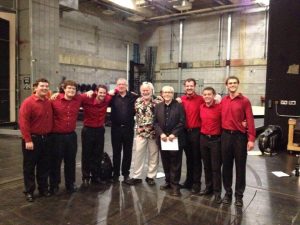 L-R James Similuk, Charlie Mann, Cameron Holt, Norm Pearson, Composer James Grant, Jim Self, Brandon Davis, Danny Garcia, Michael Murrin
The main feature for the evening, the European Tuba Power, followed our USC concert. It was really special and one of my favorites of the week. Five European virtuosos: Roland Szentpali, Sergio Carolino, Andreas Hofmeir, Janos Muzura and Alessandro Fossi, (with little rehearsal) put on an amazing concert that included solos, trios, quartets and quintets of original and arranged pieces. There was a lot of improvisation and great beauty and precision. Each player showed off his enormous "chops". A special surprise for me was to have Sergio and Andreas play my Duh Blooze from Duh Suite. In my opinion this concert demonstrated how far we have come since the first conference. These amazing artists are taking the tuba into a brave new world—one barely imagined in 1973 (except by Harvey, of course).
Finally Tuesday ended with party at Dan and Judy's. They graciously invited all of the USC students and alumni and they got to mix with many of the conference artists. It was a celebration of a spectacular night of tuba playing—by USC and the Europeans. It was an All Tuba night. We got a cool picture of four USC DMAs at ITEC–Blake Cooper, Me, Dave Holben and Zack Collins. (you can see my crazy Basset Hound shirt)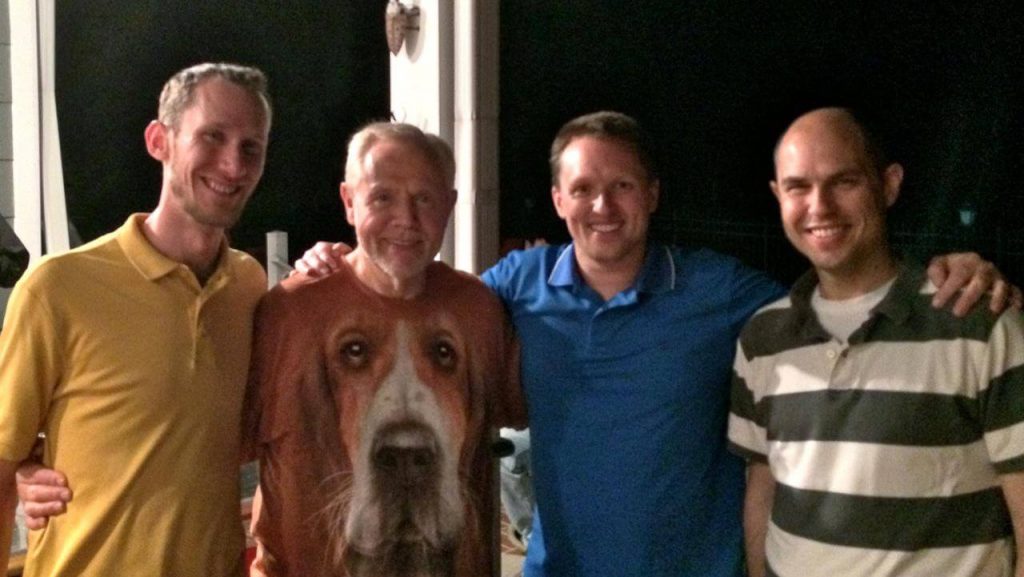 Blake, Jim, Dave, Zach
Like every night at Dan and Judy's we had some nice conversation with a lot of food and good cheer.
Wednesday was another early start for me (like every day) and I heard one virtuoso performance after another. IU has amazing facilities. A major concert hall, The Musical Arts Center (MAC), and four other recital or lecture halls—all with good "tuba/euphonium" acoustics.
One of my former DMA students, Zach Collins, shared a recital with Kevin Wass. Zach is a very successful professor at my alma mater, Indiana University of Pennsylvania. A special piece for me was Scherzo by Valerii Strukov for tuba and piccolo trumpet—very cool. Kevin played an elegant Bach Cello Suite #1. I next went to hear the Arizona State Tuba Euphonium Ensemble. I especially wanted to hear this group because Michael Murrin will be going there next year to study with Deanna Swoboda. Next was a recital by Craig Knox. In the afternoon, after pizza at Mother Bear's, I heard a spectacular concert by Velvet Brown who played my piece Three Sheets to the Wind for 2 tubas and drums—Aaron Tyndall joined her for an exciting performance of that quirky piece. That was followed by a recital featuring Roland Szentpali and Andreas Hofmeir—simply brilliant. Then a recital by two American virtuosos, Charles Villarrubio and Kent Eshelman.
That evening was the big banquet and awards ceremony held downtown at the Convention Center, It was here that we first heard that the USC Bass Tuba Quartet had won the 1st Prize in the Small Ensemble Competition.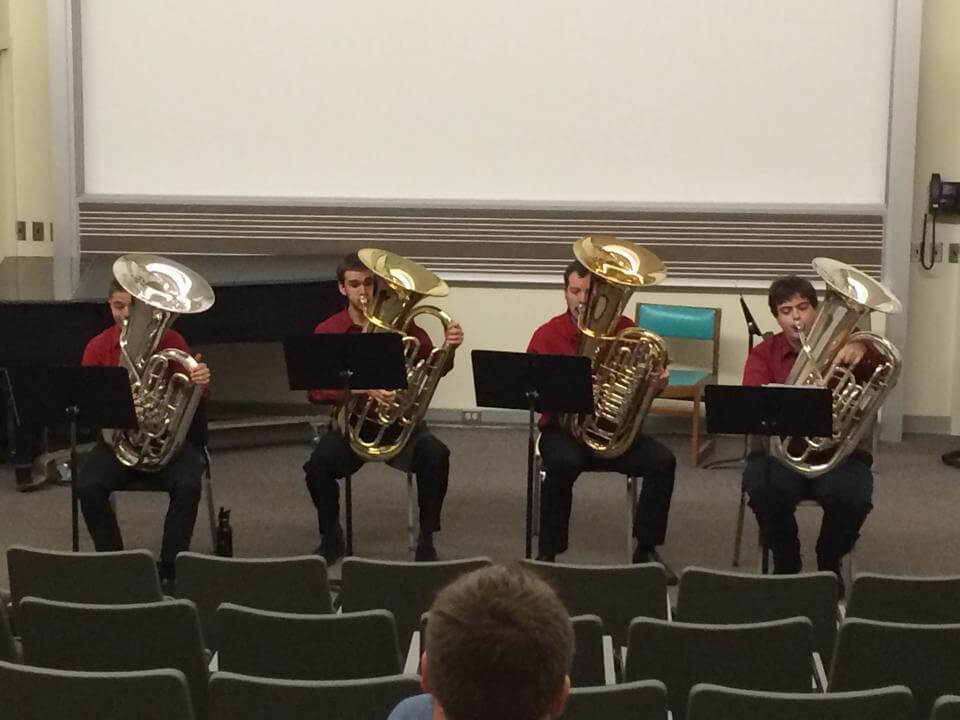 Danny Garcia, Michael Murrin, Brandon Davis, Charlie Mann
It was a relief to know that all of the hard work paid off. Norm and I were so proud! The four guys shared the $2000 cash prize. This night Jamie and I got to present the first Jim and Jamie Self Creative Award of $1500 to Norwegian tubist Kristoffer Lo. He could not be there in person but the award was accepted by President Jerry Young.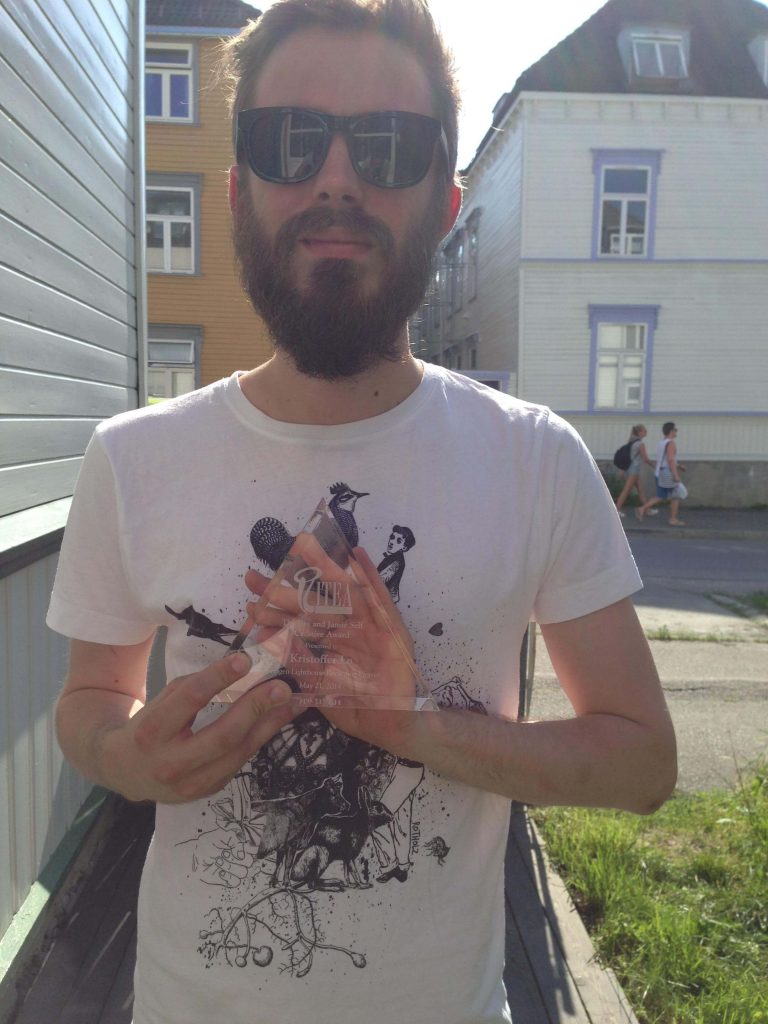 Kristoffer Lo
We were also happy to donate the seed money to establish the ITEA Endowment and to kick start a campaign to raise substantial funds that will insure the financial health of the organization for a long time. We are proud to be able to support ITEA.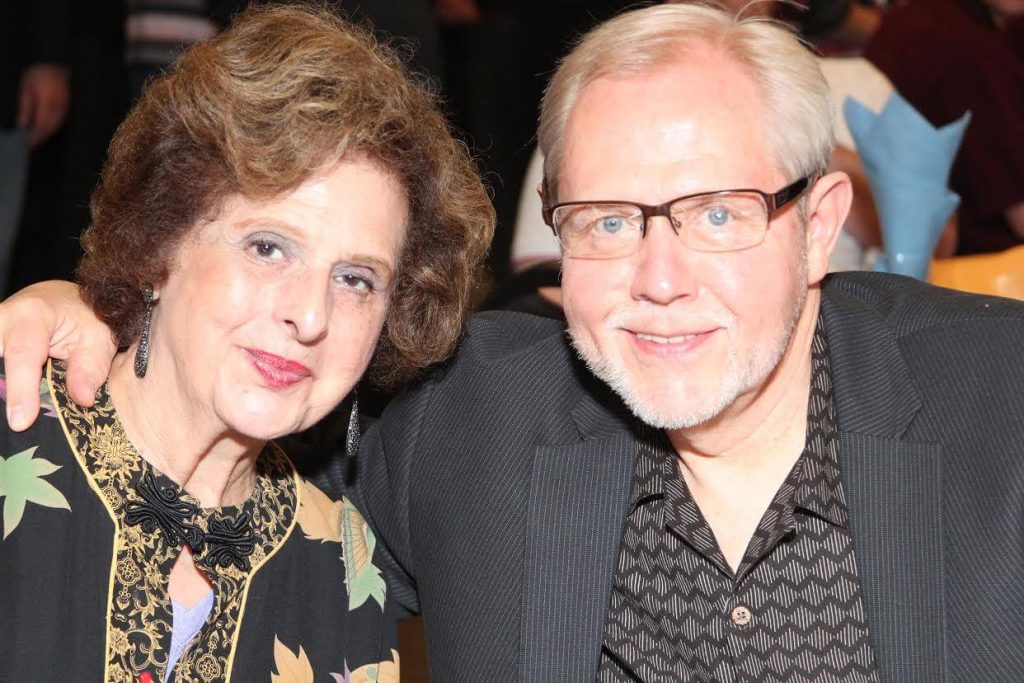 ITEA (TUBA) has been a key part of my whole career. In 1974, a year after the amazing 1973 conference, I hosted the 1st Regional Conference at the University of Tennessee. Then, after moving to Los Angeles I hosted the 3rd International Conference at the University of Southern California in 1978, served as President 1979-81 and attended/performed at international conferences in North Texas, Maryland, Austin, Lexington, Riva, Sapporo, Denver, Cincinnati, Linz, Tucson and now Bloomington again. I have also been active in Southwestern Regional Conferences, too. In 2008 the organization honored me with the Lifetime Achievement Award— one of the most important things to ever happen to me. I want to see ITEA thrive and continue the great opportunities for Tuba and Euphonium players that have blessed my life as a musician.
Wednesday was the first night at the downtown jazz club and featured the five finalists in the Rich Matteson Jazz Competition. Dan provided a professional trio from the IU faculty that included drummer Steve Houten. Steve is a dear friend and played drums on my Basset Hound Blues and
InnerPlay CDs. He now teaches at IU and shuttles between LA and Bloomington amid an international solo/clinic career.
Thursday saw another round of recitals and intros. I gave four this day. The morning had me listening to the Beautiful Souls Quartet, four young ladies Jamie Lipton, Gail Robertson, Deanna Swoboda and (former USC student) Beth Mitchell. (I regret that, with such a full schedule, I didn't get to hear many of the great euphonium players at the conference—but I heard several this day). But this group showed off three new works for Tuba-Euphonium Quartet—thoroughly impressive! In the afternoon, after introducing the Arkansas Tuba Euphonium Octet I went to hear Beth's solo recital. She is an impressive tuba player and a real force in the LA Tuba scene. Then I heard the amazing Sotto Voce Quartet in a packed hall. During this concert John Stevens came on stage and played his Fanfare for a Friend. He told me that it would be his swan song and that he was giving up any future solo playing—what a career!
Later that afternoon I introduced Roger Bobo for his Master Class with the finalists in the tuba solo competition. Roger was a huge influence on me and later a colleague in Los Angeles. I call him the Johnny Appleseed of the Tuba who, in his teaching for the last 25 years, has spread the seeds of good tuba playing all over the world.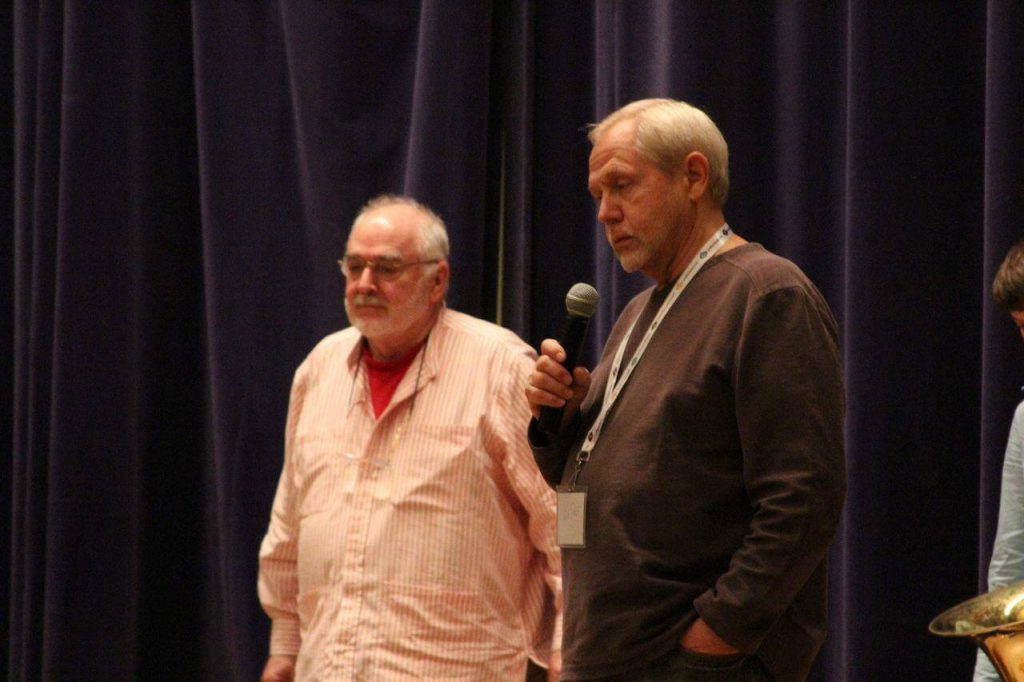 Roger and Me
Then I heard part of a jazz program Remembering Rich Matteson by his two prominent students, Marc Dickman and Joe Dollard.
The main evening concert featured Howard Johnson and (his all tuba band) Gravity. Howard has been a great leader in the jazz tuba world and was a soloist on the same 1973 ITEC concert with me. Apparently several of the musicians had terrible travel problems coming from New York City. They arrived late and somewhat disheveled. It was nice to hear Howard, Bob Stewart and Dave Bargeron again. The NY bass player, Melissa Slocum, stole the show! Then back to Dan's for some good wine and conversation.
Friday had me up early to hear former student Dave Holben play a recital. He played all new music he has commissioned. On two of his pieces Dave included another former student, David McLemore. One of the greatest joys for me was to see so many former students perform as featured soloists at this ITEC.
Later in the morning I took part in a panel discussion (led by Don Harry) with former students of Harvey Phillips. This was really cool and focused on the things Harvey did at the 1st ITEC in 1973 and all that it led to where we are in 2014 (41 years later). Next I went to a recital pairing Demondrai Thurman and Oystein Baadsvik—two of my favorite artists for sure! In the afternoon John Stevens held a Master Class with the finalists from the Small Ensemble Competition. Our USC Bass Tuba Quartet (the 1st Prize winners) played last. They chose to play my Barbershop Medley chart. John was so "right on" in his suggestions to them.
This was the last day for exhibits so I just had to go try out the new stuff. Like everything else tuba making is much better than it was 41 years ago. The quality and variety is astounding. I never owned a tuba when I was young. I auditioned and won a place in the US Army Band on a 3 valve BBb recording tuba (imagine that today). Now a CC and an F are practically a requirement to say nothing of Cimbassos, Tenor Tubas, Bass and Contra-Bass Trombones. I also had a long discussion with Yamaha Tuba designer, Kama-San about the proposed new 4/4 Yamaha CC Tuba. It's been a long time in coming but I believe it is near and will be a terrific instrument. Then I heard the Young Artist's Ensemble conducted by Richard Perry—very promising for the future.
After a quick dinner at Dan's, Jamie and I came back for the Main Concert, featuring the Fountain City Brass Band of Kansas City and amazing soloists David Childs, Oystein Baadsvik, Steve Rosse and Steven Mead.
Then over to the Jazz Club again. While I had planned not to play at this ITEC (because I wanted to "hang out"—that and playing do not mix for me). Drummer Steve Houghton talked me into one number. It is so frustrating to play in a noisy bar. So I got up, quieted the audience by proposing a toast to our host "Mr P" and, while they were reasonably quiet, played There is No Greater Love with the trio. Steve was on my InnerPlay CD when we recorded this tune. It was a lot of fun.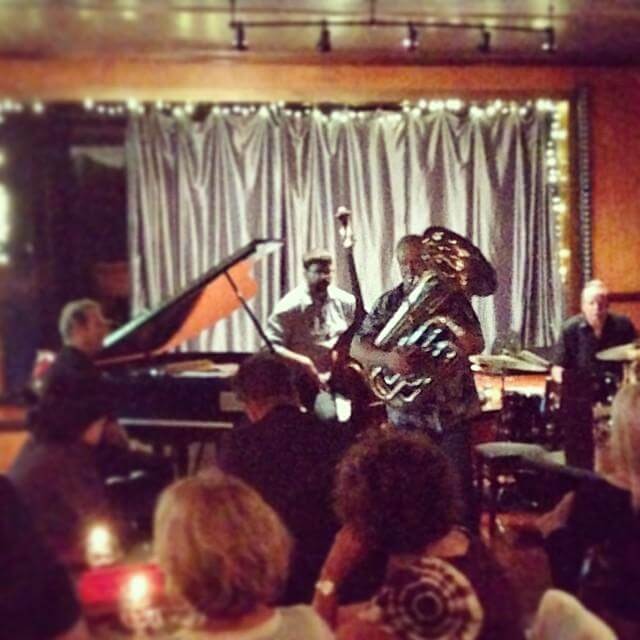 That night John Stevens played a beautiful version of Georgia and Sergio Carolino got up and wowed the crowd with a funk tune. All week I enjoyed Marty Erickson, Marc Dickman, Joe Dollard and others playing at the club.
By Saturday (the final day) I was really "pooped" but still determined to hear as much as I could. It started early with Curtis Peacock playing his own Concerto for Solo Tuba and Jazz Trio. Then I got to introduce my recent DMA grad Blake Cooper for a recital that included my Polka.com and John Stevens' Monument – Elegy for Tommy Johnson. Between hearing all of my former students and so many of my compositions, I was a very "happy camper" at ITEC. At noon I heard the Osaka Tuba-Euphonium Consortium—superb! I then introduced Beth McDonald from Boston who gave a presentation on Electronics and the Tuba. She is going way beyond what I had done in the 70s and 80s–there are always new electronic things coming out. Then I introduced David Brubeck (a bass trombonist) who gave a lecture on Stereograms—a unique way of performing solos and accompaniments by one solo player. That was followed by Ben Pierce on Euphonium—what a talent!
The evening concert featured the University of Wisconsin-Eau Claire Wind Ensemble with virtuoso soloists Jerry Young, Brian Bowman, Tim Northcut and Andreas Hofmier. Jamie and I were especially taken by Andreas' gorgeous sound–(but I don't know about the bare feet?).
The next day Jamie and I enjoyed the morning with Dan and Judy– how 'bout these two "babes?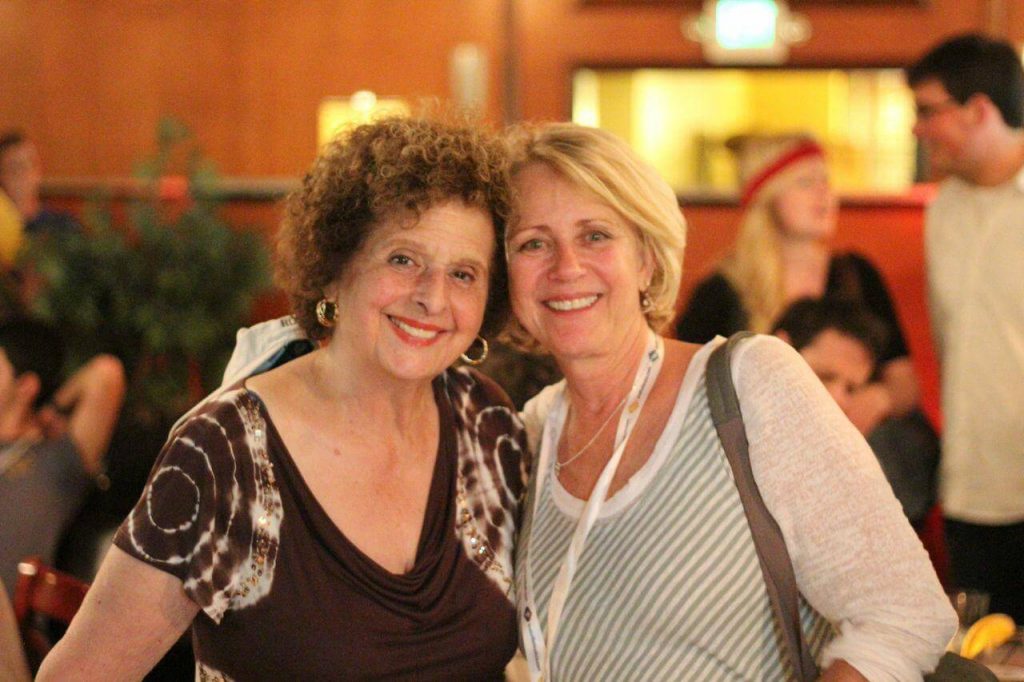 Jamie,Judy
–and then off to the Indianapolis Airport where we met the remaining four USC tuba students for a farewell meal before heading back to L.A.
It was a special week for me, reassures me that ITEA is in good hands and that (while I won't be around for it), the next 41 will be spectacular. The tuba has gone from a back-of-the-band oom-pah machine to solo and ensemble status worthy of any instrument. I can think of no instrument that has improved its level so dramatically in the same period. There are some amazing players that are reaching broad audiences these days, many fine works have been written and we do not take a back seat to any other instrument or performer. F (and Eb) Tubas have allowed tuba players to play in the cello tessatura and to be featured as a solo instrument like our Euphonium colleagues. Once you have a voice–all you have to do is sing.
My greatest pleasure was hearing my own music played so well and having all of my students and former students doing so well. I am a proud "papa".
More than 900 registered attendees were at ITEC 2014—many more than any previous conference. Conference Host Dan Perantoni; ITEA Conference Chair, Kelly Thomas; Conference Administrator, Genevieve Clarkson and their student team deserve high praise for presenting a wonderful ITEC 2014. It all went smoothly and professionally. Harvey Phillips would have been so proud.
I am really happy to have been there.
Jim Self
Los Angeles
June 2014