Jim Self – 2011
I take the liberty of calling him Harvey even though he had many titles including Mr., Dr. and Distinguished Professor. But he always made me feel comfortable with calling him by his first name. I don't worship anything (especially other mortals) but Harvey Phillips was as close to a "tuba god" that I have ever known—he was inspirational!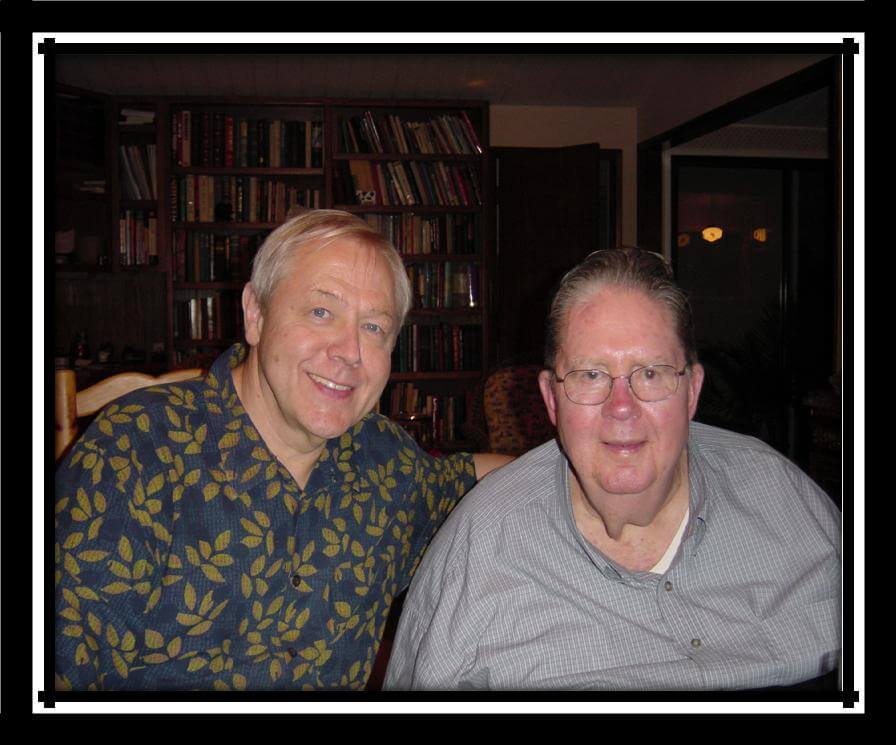 My special relationship with Harvey Phillips began in 1966 when I was in the US Army Band in Washington, D.C. I was studying for my Master's degree at Catholic University and the man who taught tuba was a distinguished trumpeter but had no interest in teaching tuba and so I was pretty much left on my own. I needed direction. My band mate Dan Perantoni had been commuting to New York City and taking lessons from Harvey Phillips. He introduced me to him and I arranged for lessons in New York. He was well known for his many successes and "firsts" as a tuba player, particularly the New York Brass Quintet. I had also heard several recordings he had made as a soloist and with various commercial and classical groups and bands–mostly Golden Crest stuff.
Well, Harvey squeezed me into his busy schedule. At the time he was in the New York City Ballet Orchestra, the quintet, contracting orchestras and playing everywhere around New York, playing tons of studio calls. He was everybody's 1st call. He had a deal with contractors that he could send a sub to rehearsals. If he couldn't make the dress then the sub would do the concert. (Boy what a different world it is today—no one in LA could do that). He had a small rented studio way up the Carnegie Hall Tower that he shared (I believe with trombonist John Swallow). It had one music stand, two chairs and one bare light bulb. Most of my lessons were there although sometimes they were down in the bowels of the State Theater. At the time I was preparing my Master's recital at Catholic University and Harvey helped me choose music. Much of it was stuff he commissioned and premiered so I got his special take on how to play the Hindemith, the Persichetti, the Effie Suite and Bach Contrapuntus IX and Bozza Sonatine for quintet. We also worked on the Vaughan Williams.
Harvey was the first real tuba playing teacher I ever had. In my undergraduate tuba lessons at IUP I studied with William Becker who was a trumpeter. He taught me well and was thorough with the basics but was not too familiar with the tuba literature—something he readily admitted. Harvey Phillips (in 1966) was the greatest tuba player in the world. I had recently gotten my 1st tuba—a Mirafone 186. In the Army Band Bob Pallansch, Chester Schmitz and Dan Perantoni were my section mates. They all were great players and really inspired me. Chester particularly was the most amazing and talented tuba player I ever heard. He recently had won the Boston Symphony audition. They all got me fired up to get serious about the tuba and lessons with Harvey really put the polish on it. Bob Pallansch was very tight with Harvey too. They had been together in the US Army Field Band and he too recommend me to Harvey for lessons.
I commuted to NYC by train, bus or car for my lessons. One trip to the city for a lesson was very memorable. We had a tentative lesson scheduled for a Saturday. For many days I could not reach him by phone, so I took a chance and went to the city, got a room and finally reached him at 12:30 AM. He apologized that he didn't have any time to teach me the next day but, if I had a black suit, I could sit in the pit of the State Theater with him for a performance of The Nutcracker. Well, not to be deterred, I bought the cheapest suit I could find (for $26) and sat next to him for the best lesson I could have ever had. Harvey played SOLID on that very good part. I was about 22 years old and Harvey was about 37. I thought he was an old man—what an interesting perspective young people have.
New York was a bright and happening place in the 1960s—the center of the music world. At one lesson I met Toby Hanks who had just been appointed to replace Harvey in the NY Brass Quintet. Harvey himself was getting ready to go to Boston where he became a Vice President of The New England School of Music under Gunther Schuller. It seemed a strange thing to me to think that anyone would leave all that playing in NYC but Harvey had a young family and wanted a different life for them. His organizing skills and business acumen were what was needed at NEC. I also met with Walter Sear at his shop in the NYC. He had hand copied the only tuba "excerpt" book that you could get in those days.
Earlier when I was studying with Harvey Phillips in New York I had some time to kill and went to a Friday matinee of the Sound of Music on Broadway. As I walked out onto Times Square (about 5 PM) I saw a string bass player (maybe from the show—who probably had a jingle date downtown) trying to get his bass into a cab. Broadway was 8 lanes all going south—the cab was in the middle lane. The poor bass player had his instrument over his head dodging cars that wouldn't give him an inch. He finally made it. That helped me choose Los Angeles over New York. I also knew that wherever I went I would be poor for a while and would rather not freeze as well as starve.
My lessons with Harvey ended in the summer of 1967 but my relationship with him had just begun. He took me under his wing. I became part of his inner tuba circle and he included me in many of his projects down the line.
I wanted to be like him and do what he did—my life led me later to Los Angeles where (in many ways) I have had the opportunity to do much as he did in New York. Harvey was my ideal, not just as a tuba player, but also as a good citizen and as a man who lived his dreams. I wanted to please him with my life and career. NO ONE could ever achieve as much as he did but I sure wanted to try.
Anyone who knew Harvey got to share in that oversized personality and oversized appetite for living–and for food and drink. Many times he introduced me to restaurants and often with many friends and enormous amounts of food and drink. My attempts to keep up with him were always in vain. He loved to cook too. One summer I was hired as a guest clinician for the Summit Brass Workshop up in the Colorado Mountains. Harvey insisted that he take me and others for dinner at one of his favorite places. It was a steak house where you picked out your own steak and he picked the largest—a 20 ouncer. He cooked it on a grill, added a huge baked potato and salad and plenty of beer. I tried one too. After eating that enormous meal he promptly got up and chose another 20 ouncer and all the trimmings and easily ate it too. My attempts to keep up were trashed.
Harvey was a man of wisdom. He was very practical about things, very fair to everyone, had an engaging sense of humor and enjoyed some salty jokes. He made me feel comfortable. He never looked down or treated me in any way but as a colleague and adult. Many times he gave me great advice on my career moves and supported me in everything I did. That was really a shot in the arm!!
Everything he did was outsized.
One of the most important things Harvey did was the creation of the New York Brass Quintet (with trumpeter Robert Nagel). Not only was it the premier brass ensemble in the world it commissioned many many pieces—effectively starting the brass quintet explosion. Their efforts made it the standard chamber ensemble for brass players and put it on a par with string quartets and woodwind quintets. All of a sudden colleges wanted to add a tuba teacher to their faculties so they could have a resident brass quintet. Well I was the recipient of one of those earlier college jobs. In 1969 the University of Tennessee hired me to teach tuba and play in the faculty brass quintet. Within three years I had a full load of tuba and euphonium majors—effectively creating a long-term position for myself–and others who followed. So thanks go to him (in a big way) for creating the brass quintet.
During my years at Tennessee I stayed in pretty good touch with Harvey, we had him and the NYBQ in one year for a concert and clinic. I remember him saying that the only time the guys in the quintet had time to rehearse was 2 in the morning the night before. That night they did Bach's Contapunctus IX, the Bozza, the Malcolm Arnold, the Etler and the Gunther Schuller—all in one concert— absolutely amazing!
His clinics were amazing for their facts about everything tuba and he always played lots of fun stuff like Carnival of Venice on a sousaphone—or simple jazz ballads or Air and Bouree. He was never a snob and loved all kinds of music.
Many times during these years I got great advice about things. When Harvey moved to Bloomington in 1971 I was in the middle of my years at UT. He right away started planning things for the 1st International Tuba/Euphonium Symposium Workshop—which took place in 1973. Harvey asked me to be on the planning committee with Perantoni, Winston Morris, Les Varner, Ron Bishop, and several others. I felt always that I had the least to offer but we had some fun meetings at the Tuba Ranch with lots of food and cheer. At the conference unfortunately Harvey got sick and sent me as a sub for the premier of the Gunther Schuller Tuba Quartet—a huge shot and challenge for me. We all know the tremendous event the 1973 conference became—in my opinion the single most important thing that ever happened for the tuba/euphonium community—a spectacular event and the beginning of a real organized future for our instruments.
Harvey had a really good outlook on life. Always positive. Always forward thinking. Always looking at the big picture and always thinking about others. He always had a slogan. Good citizenship was important to him and doing for others. He was always insistent that students had to make their own way in life—to create work and be entrepreneurs. These things have always been a part of my life, how I try to live, how I teach and the values I respect.
In 1974, one year after the first International Symposium, I hosted the first Regional Tuba/Euphonium conference in the country—the Mid-South Workshop at the University of Tennessee. The organizational things I learned from Harvey helped make that a big success—and ITEA has continued those all over the country ever since. In 1978 I hosted the 3rd ITEC at USC in L.A. and Harvey of course was a star attraction and a constant help in organizing the event. Over the years I would see Harvey at many of the ITECs. A couple of times I subbed for him for rehearsals on the TubaJazz Concert. That 1st tuba part was so high and demanding. Another time I played bass on a rehearsal— lots of fun.
Later, after moving to Los Angeles in 1974, I remained in touch with Harvey by phone and letter. That year he began TubaChristmas in New York City. Two years later I organized the Los Angeles TubaChristmas and it has been going for over 35 years. Several years Harvey came out and guest conducted. But the long trip, cost and his grueling schedule of TC concerts made LA difficult to do for him.
ITEA (formerly TUBA) would not have happened without his leadership. He really liked the rather corny Tubist's Universal Brotherhood Association (that he coined) and was not happy with the more politically correct ITEA but went along with it.
In 1984, after I had some years as a studio musician Harvey invited me to be an artist and clinician at 1st International Brass Conference at IU. That was another huge event—this time for all brass players. I remember playing my EVI and having John Fletcher in the audience. I also got to play with Doc Severinson, sub on bass with the TubaJazz Consort and have a brief jazz set of my own. (one of my early, limited forays into jazz).
Harvey, Carole and Thomas visited my home several times. I always enjoyed talking to Harvey. He was a kind of guru—full of advice, not only about music and tuba playing, but about life and how to live it. His compass was always focused on the future and what he could do (or could encourage others to do) to make things better for our instrument.
I dedicated my second classical CD, "The Big Stretch" to Harvey. The album featured several of my new compositions with tuba. He wrote a short blurb for the CD booklet about my composing. It was very flattering. Harvey many times wrote or said compliments for me. They helped me at many stages in my career. I really appreciate those boosts.
One of the things Harvey had was a great gift of English. He wrote and spoke with eloquence and added class to the tuba world. He was always a great spokesman for the tuba and he did it with grace and intelligence. One of his goals was to raise the image of the tuba and he had the social gifts to do it. He seemed to know everyone in the musical world and was able to commission hundreds of new works.
Twice I flew my plane into Bloomington and stayed at the Tuba Ranch. Once (in 2001) Harvey donned his chef's hat and prepared lobster and pasta.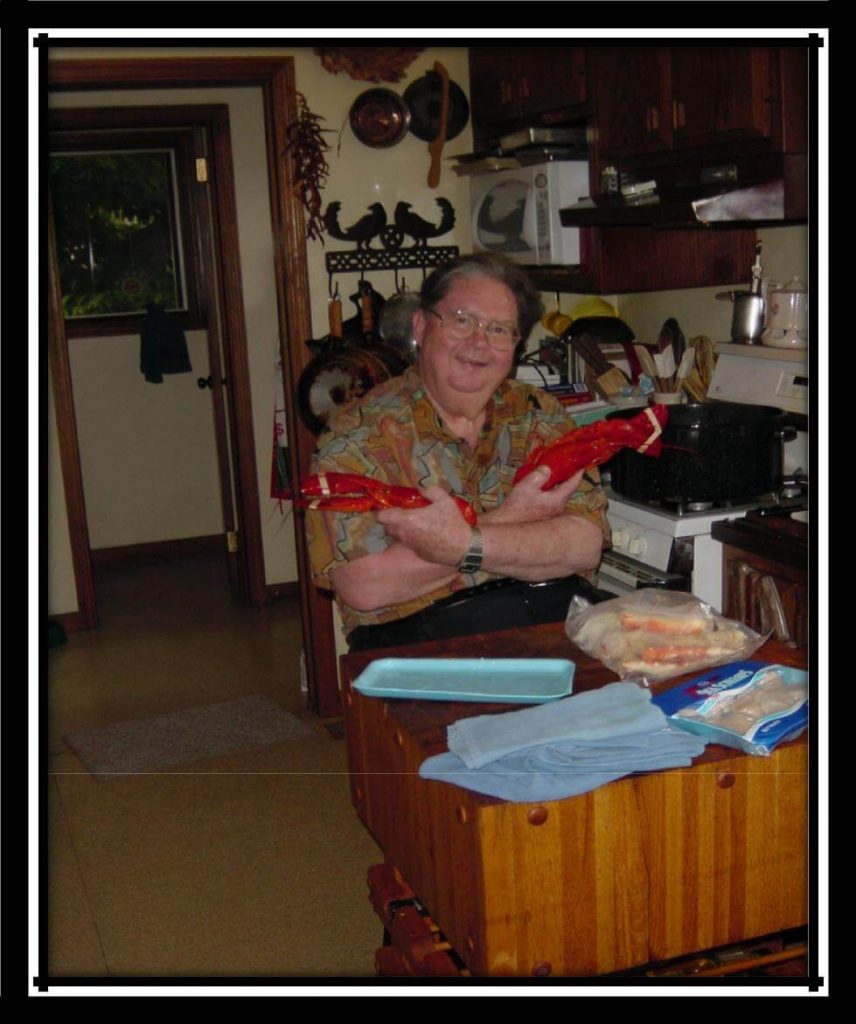 In the summer of 2009 I went back for a little reunion at Dan Perantoni's home with Winston Morris and Bob Tucci. We had a wonderful time with our "mentor".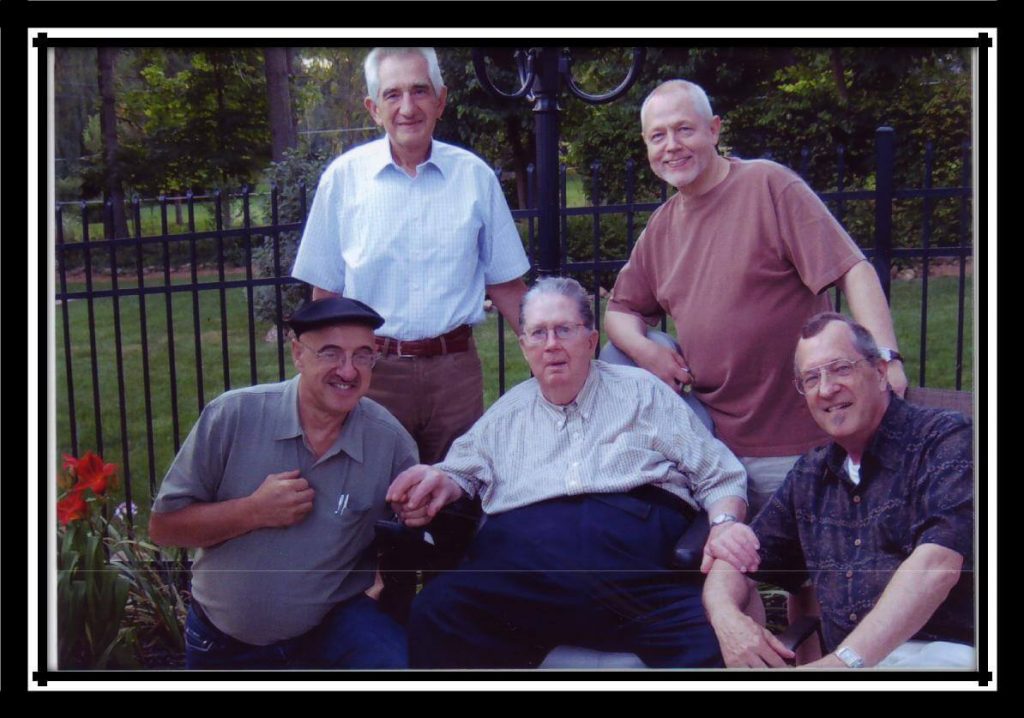 He was sharp as a tack. While he had difficult health problems in his last years he spent every day writing and "getting stuff done"—what a good way to live.
He was determined to leave the world a better place, to have a positive impact and make his life meaningful to others. No one has done that better than Harvey Phillips. His legacy will live on forever.
Jim Self
Check out: Harvey Phillips on CBS Sunday Morning
www.youtube.com/watch?v=7XvWX70HeW0