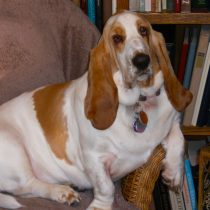 Articles
Magnolia
(Nolie)
Today Magnolia, our dear Basset Hound, went to the Rainbow Bridge. It was very difficult for Jamie and me. But she was suffering so much that we decided it was time. She was not yet seven years old.
We called her Nolie–after the character in Show Boat.
I have had Basset Hounds for 46 years and they have been a big presence in our lives. I named my little music business Basset Hound Music and my record label is Basset Hound Records. 20 years ago I built a big music room onto our home and named it Basset Hall. Throughout our home we have dozens of Basset figurines. One of my CDs and a song I wrote was called "The Basset Hound Blues". It and all of my subsequent solo CDs ended with "Dog Tags" (basset howls).
We've had many Bassets: Barney, Beauregard, Stanley, Augustu...
Read More