A Eulogy
William "Bill" Becker passed away three days ago after a long life of 90 years.
Bill was my teacher all through my bachelor's degree at Indiana State College (now Indiana University of Pennsylvania). He was NOT a tuba player but was a trumpeter. At that time he taught all the brass except horns. He also conducted the Brass Ensemble and taught other classes–as was common in many smaller colleges at the time. I went there in 1961. I believe Bill was just in his 2nd year on the faculty–right out of a PhD from
The Univ. of Iowa. A trumpeter with doctorate was VERY rare at the time.
My memories of working with him are that he gave me my first ever private tuba lessons. He was honest about his limited knowledge of the tuba and its (at the time) sparse literature. So he taught me a lot of trumpet solos like the Ernest Williams Concerto, Czardas and Carnival of Venice. I got pretty good with reading trumpet music on "Old #1", the school's 50's era King recording tuba.
IUP gave me a Distinguished Alumni Award in 2003. At the ceremony they surprised me with a gift, "Old #1". Here it presented with (L-R) Bill Becker, Tuba Prof, Gary Bird, Me, and my former Band Director, Dan DiCicco.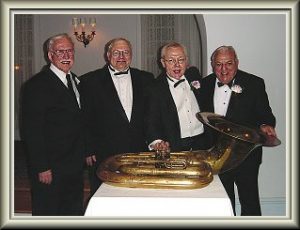 As a junior I studied the Hindemith Tuba Sonata with Bill. Looking back what I appreciate most was his teaching me exactly what I needed—the basics. He was very demanding about tone, rhythm, pitch, scales, long tones and (above all) musicality. I was SO young and SO much a musical hick. He brought me to a level where I was able to win a position in The US Army Band in Washington, DC soon after graduating
Dr. Becker conducted the Indiana Brass Ensemble, which I really enjoyed. He exposed me to the music of Ronald Lo Presti, who was on the faculty at
Indiana at the time, and wrote several of his early brass pieces for us. I also remember playing challenging works by Richard Strauss, Gunther Schuller, Henri Tomasi and a healthy dose of Bach and Gabrielli.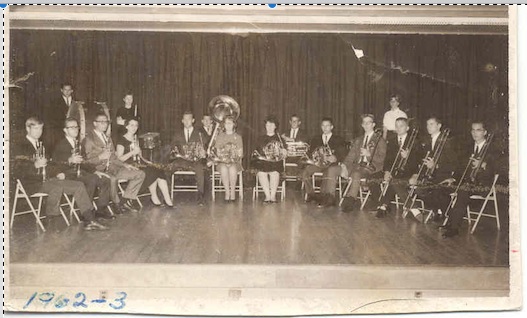 Bill had a long career as a trumpet professor at IUP and many hundreds of his students have had successful careers as players and teachers. His legacy
is long indeed!
For several years I had lost touch with Bill and my alma mater—which I regret. After returning to IUP as a soloist a couple times I re-connected with
Bill and we established what has proved to be a great friendship. Bill met and married Sandy, the love of his life, and they lived in a beautiful rural
home–a few miles from Indiana with a swimming pool and many dogs. I visited him several times. He had retired in 1990 so had a long and happy
retirement. Bill was a good "computer" guy for his age and had an early home movie outfit. He owned a large collection of movie DVD's and videos
and knew all about the scores that I had played on in the movies. Bill became one of my most ardent supporters. He critiqued my solo CDs and compositions. He was proud of me and I let him know that my success as a musician was directly related to the "basics" he taught me early on. We had
many discussions about life, music, dogs, politics and philosophy. Bill was sharp as a tack all the way to 90–and he liked good jokes too. To me he was
both a father figure and a kind of soul mate. We were close! He was always generous with his career advice and he showed me how to grow old with
grace.
Visiting the Becker home during the IUP 50th Anniversary in 2015 with my best brass playing college friends—all Bill's students:
I have just finished recording all of my compositions for brass quintet with top Los Angeles musicians. It will soon be a CD and I've decided to
dedicate it to my dear friend and mentor William Becker–the man who introduced me to brass music. His presence has been a wonderful thing in
my life and I will miss him immensely.
Jim Self
Los Angeles
7/19/18