Personal Memories by Jim Self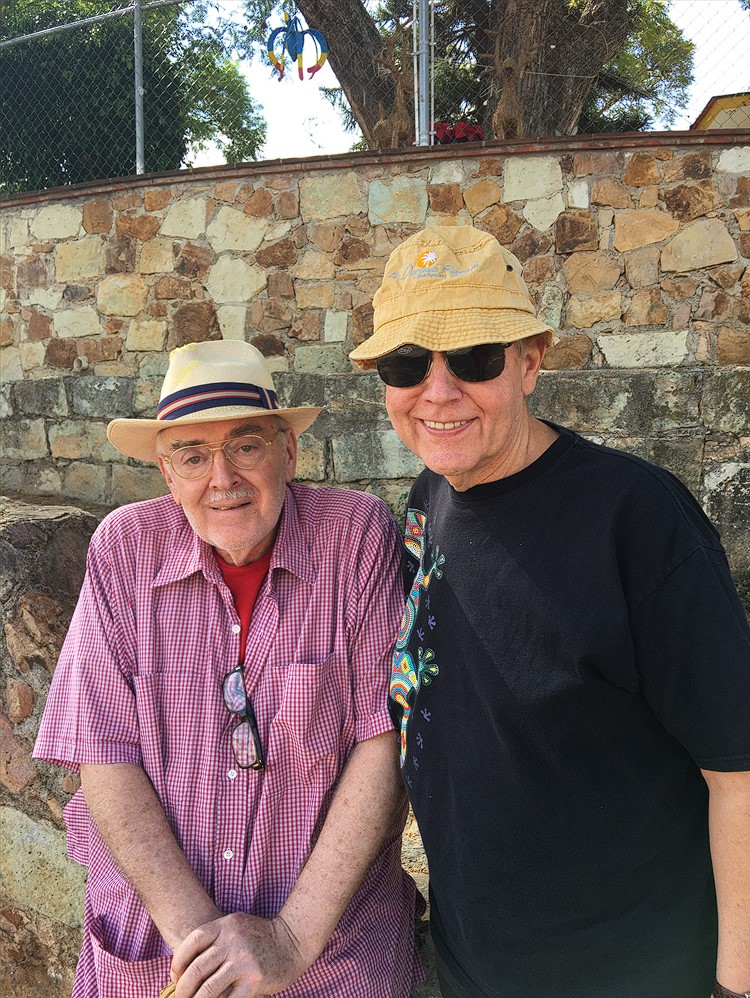 I had a 60 year relationship with the late, great Roger Bobo. Many words have been written about his life and extraordinary career — including Steve Oberheu's book of his life, "Pirate Songs and Love Songs". So, not to repeat that stuff, I will try to relate my personal moments, feelings, opinions and experiences with him.
My first knowledge of Roger was in the late 60's, when I heard his 1st Solo album "Roger Bobo Plays the Tuba". It blew me away! I was studying with Harvey Phillips in New York then. Harvey was the most prominent tuba soloist in the world at the time. Then Roger shook up the tuba world. That LP stretched the tuba technique, range and energy level to its extremes. None of us even imagined that those things could be done on the tuba. I have often compared its impact on the tuba world to the impact Stravinsky's Rite of Spring premier (in Paris in 1913) had on composition. It changed everything for us! We knew that that level of playing the tuba would stand as the ideal from now on and that the avantgarde was open to all.
My next memory was in 1971 when I was the tuba professor at the University of Tennessee. I began DMA work in at USC in Los Angeles with Tommy Johnson and spent 3 summers there. I took a few lessons with Roger. They were scary and he was not much into teaching then. I didn't know it at the time, but he was distracted a lot then by personal family issues.
In 1974 I got a copy of his "Yellow Bird" record. It was my kind of music and I dearly wanted to play it. But I was afraid to ask Roger for the music so I copied the music to a reel to reel tape recorder, took out my guitar and score paper and laboriously copied the tuba and rhythm section music–by ear. Then I performed it at UT with a jazz trio. At a later lesson with Roger I showed him my pencil manuscript. What he noticed was that I had written the 3rd movement a half-step too high (Gb instead of F). It was because, in those days, turn tables were adjustable and I was not sure and chose the wrong key. But it certainly made it much more difficult to perform. It was one of the pieces that propelled my career into commercial and jazz music.
In 1974 I took an unpaid sabbatical year from UT to do my DMA residency at USC.
I quickly got busy as bass player, teacher and studio musician and decided to stay in LA. I started being the 2nd tuba sub (after Tommy Johnson) at the LA Philharmonic. I got to play several gigs with the Phil when Roger and Tommy were sick or busy. My 1st ever performances of the Rite of Spring and the Tchaikovsky 4th Symphony were on Sundays when the contractor called me at noon for a 2 PM matinee. I was sight reading and scared — but all went well and it helped my reputation.
Then in 1976, when I was nearing the finish of my DMA, I had to perform a "lecture" recital. On a lark I decided to do a tuba chamber music concert and asked Roger, Tommy and Don Waldrop to join me in a varied concert of trios, quartets and larger chamber works. I had played the premier of the Gunther Schuller Tuba Quartet at the 1st ITEC  in 1973 so I chose that as my lecture subject and wrote an analysis paper of that piece — and I wanted to play it on that concert with them. The concert at Barnsdall Theater was 3 hours long, packed with 300 in the audience and it became the start of the Los Angeles Tuba Quartet.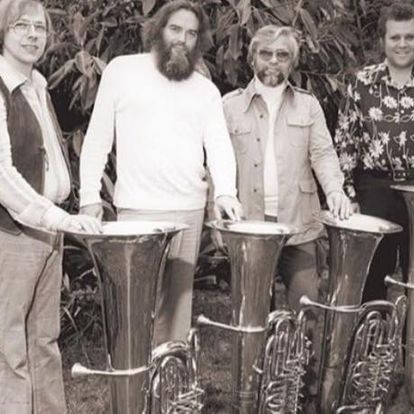 After that we played a few minor gigs together. Then in 1978 I hosted the 3rd ITEC at USC. The Friday night concert was called "L.A. Night" and featured the four of us in solo and ensemble roles. I played bass-line tuba with a jazz rock quartet I called "The Bottom Line", Tommy played the premier of the Broughton Tuba Concerto with 24 great studio musicians. Don Waldrop played the Halsey Stevens Sonatine on French Tuba (which had been composed for Don) and Roger played the enormously difficult Six Likes by TheodoreAntoniou — and Tommy and Roger played the Bach Double Violin Concerto. We finished the concert playing the final two winners of a quartet composition contest, Gunter Kochen's Sieben Miniaturen fur Vier Tuben and David Snow's Elephants Exotique. It was a spectacular night. Much to my dismay it turned out to be the last time the quartet played together. We were all too busy.
The last time I played with Roger was as 2nd tuba on Symphony Fantastic and the LA Phil about 1988—shortly before he left the orchestra to pursue a brilliant teaching career in Europe.
Early on in ITEA (TUBA) Roger, like many of the top American symphony tubists of the day, kind of "poo pooed" things like that and events like Tuba Christmas. But he came around! He played several of the 1st Tuba Christmases in L.A. His perspective must have changed later because he "paid things forward" and he became quite active in ITEA–doing clinics and masterclasses at many ITEA events. He even hosted a great ITEC in Italy. And, as we all know, he became a great pedagogue and played more years as a virtuoso soloist and CD artist. And he even pursued a conducting career. Then suddenly he quit playing saying he could no longer practice the many hours a day he needed to maintain his highest level. His teaching career lasted many more years in Europe, Japan and Mexico and he inspired many, many musicians. His insightful on-line Blog is a treasure of his musical experiences—some included honest regrets that he had for things early in his career.
When I introduced Roger for his Master Class at ITEC 2014 at Indiana University I called him "The Johnny Appleseed of the Tuba" — who went around the world planting his seeds of wisdom!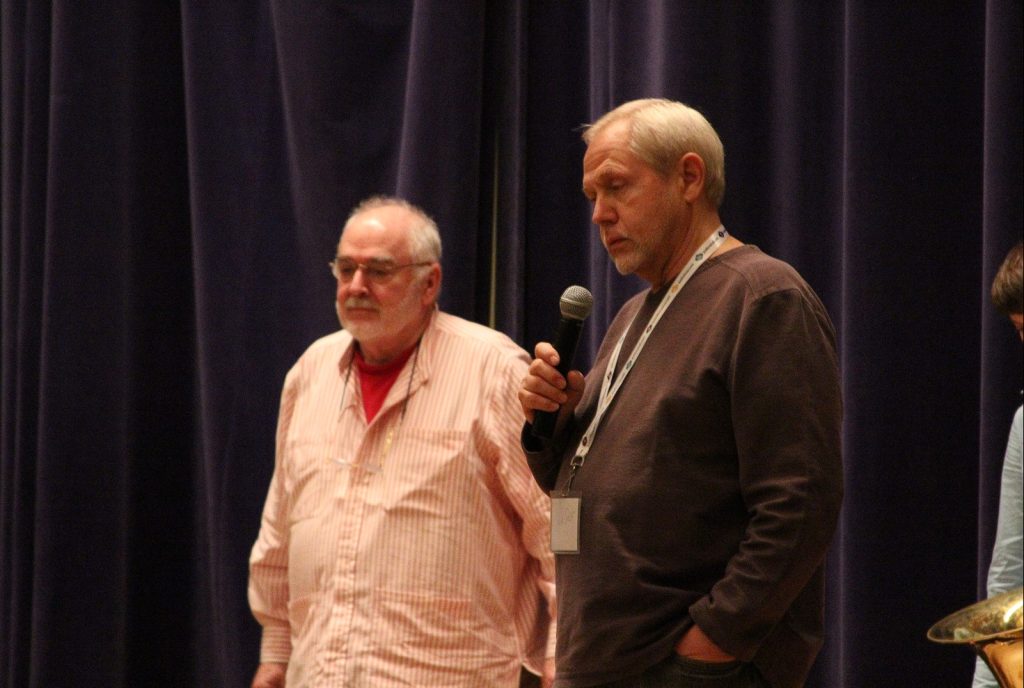 Jamie and I went to Amsterdam for New Year's 2000 (the Millenium). Roger was there with an entourage of his students from Switzerland. Always the gourmand , he hosted us to great Indonesian meal that night.
The last real time I had with Roger was Thanksgiving 2018 when I flew to Oaxaca to "hang" with him. We had a great time and cleared up some awkward moments that we had shared our early years together. It was very cathartic for both of us.
Right before he had his stroke in Michigan Roger spent a week teaching lessons in LA. Beth Mitchell and I helped schedule students and that was my last contact until his recent death
As teenagers Roger and Tommy were the best young tuba players in Los Angeles–and both studied with Robert Marsteller. They were dear friends and friendly competitors their entire lives. Tommy stayed in town and became the best studio tubist of all time. Roger went on to Eastman. I think that it was there that he discovered his exceptional talent and set out to prove that he was the best tuba soloist of all time. I think he did!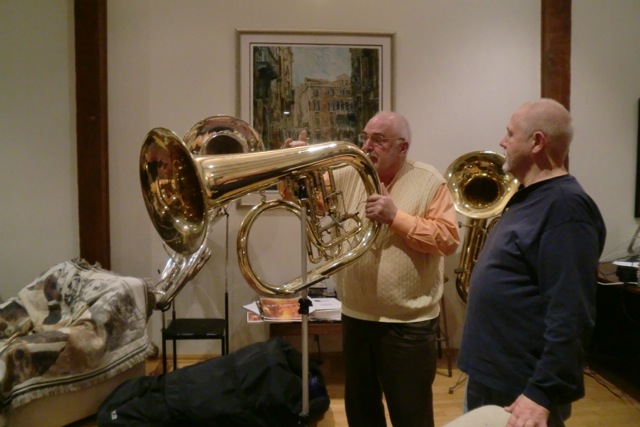 Sincerely, Jim Self