Pennsylvania 2022
Memoir
I just finished one of the most rewarding weeks of my life in southwestern Pennsylvania. I was invited to be an Artist in Residence at my alma mater, Indiana University of Pennsylvania — more than two years ago. It was postponed twice due to Covid but finally happened this week. I am from the area and am a Distinguished Alumnus of the school. Because I had a relationship with the River City Brass Band in Pittsburgh and its conductor, James Gourlay, I made an agreement with them to do professional audio/video recordings of two of my challenging compositions for Brass Band, "Tour de Force" and "Flying Circus". I think the RCBB is one of the finest in the world and have special understanding of my complex rhythmic music. They had actually played the world premiere of Tour de Force a few years ago and I knew they could play and record it better than any other brass band–plus they are an AFM Union ensemble and I have been a staunch union musician my entire career. So, two days ahead of my IUP residency, I scheduled a rehearsal and recording session for those pieces. Both sessions were held in the Penn Hills High School Auditorium which has excellent acoustics for a brass band. Tour de Force was originally composed for and premiered by the Pacific Symphony and soon transcribed for Wind Band. The 3rd version was for brass band. When the RCBB first performed Tour de Force it was a struggle technically and range wise so, at James' suggestion, I lowered it one step to make it more friendly to the high cornets and horns. I call it my "Bb" version. When one writes string and woodwind music for all brass it is especially challenging to play. But the RCBB was up to it. I was astounded by how well they played at the recording session! And Maestro Gourlay was an efficient and precise leader in the session. The tonemeister/producer for the session was Jim Nova, 2nd trombonist in the Pittsburgh Symphony and former member (with me) of the Pacific Symphony. It was great to see him again and have his "ears" for the recordings.
Earlier that morning I had breakfast with an old college roommate, Jim Condron—who happens to live in Penn Hills.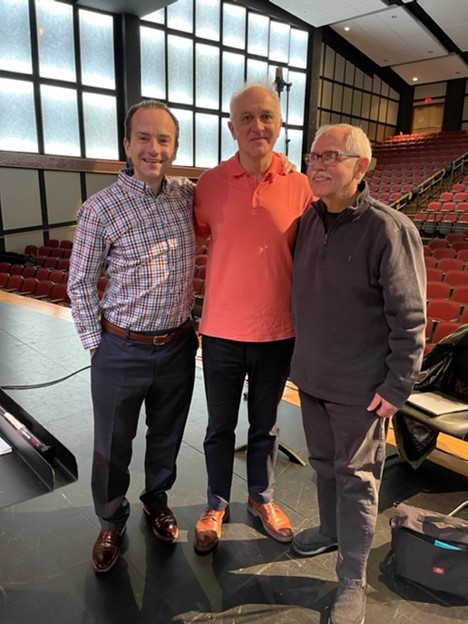 Flying Circus was originally written for a 14 piece brass and percussion ensemble so transcribing it for brass band was an easier chore. But it too was virtuosic. When the record session was over I was on "cloud nine". It's a very special feeling for a composer to hear a superb recording of one's music for the 1st time—and it was one of the happiest moments of my life. The exciting finale of Tour de Force and the gorgeous tuba/euphonium quartet in the slow movement of Flying Circus stand out in my memory. I can't say enough about that band and what they did for me that day. Soon the audio and video will be mixed and I will share it with the world. I spent that night with James and his wonderful wife Lea at their recently built new home in the Mt. Washington area of Pittsburgh.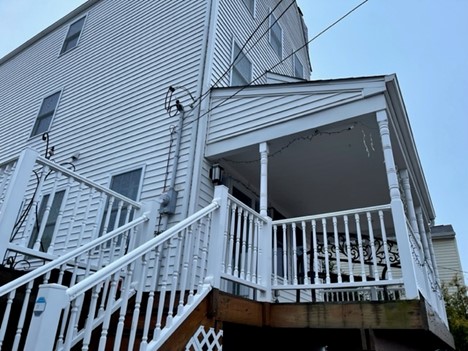 The only frustrating part of my week in PA was the weather—it was darn cold most of the time—especially for the end of March. It was as low as 15 degrees and reminded me of the reason why I live in Los Angeles.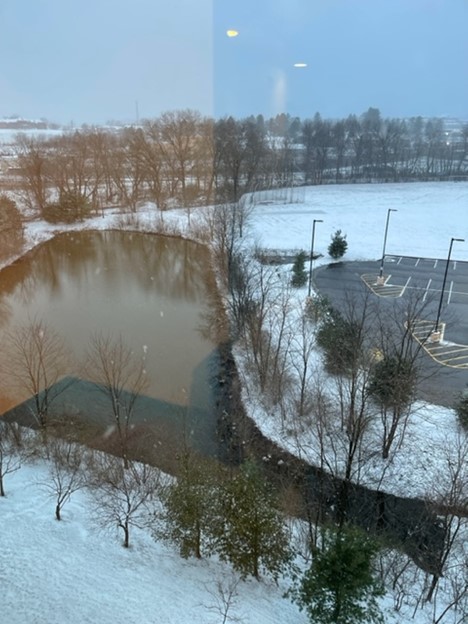 I next drove the 60 miles east to Indiana, PA where the next 4 days of my residency was to be.  I met up with Zach Collins who is the Professor of Tuba and Euphonium at IUP and my host for the week. Zach is a wonderful tuba player and teacher and was my student at the University of Southern California for his Master and Doctor degrees—and one of the best students I have ever had. While in Los Angeles he was getting some great studio gigs but really wanted a life as a professor in a smaller and less hectic place. Just by good fortune (and his talent) he was offered a faculty position at IUP — following the 35 year tenure of the great IUP tuba prof, Gary Bird.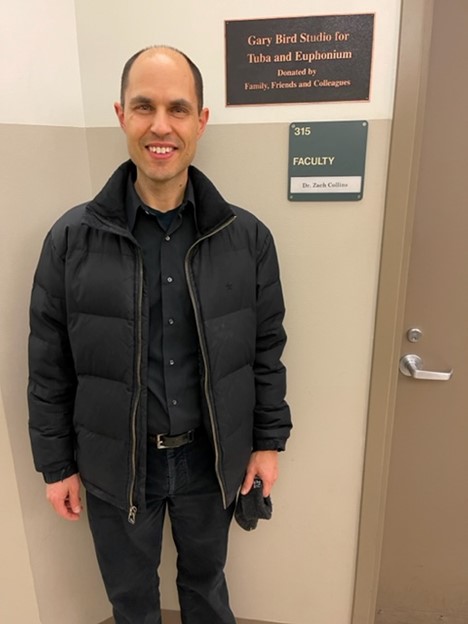 It's wonderful for me to have a great student and truly nice man hold that position at my alma mater. Zach and his wife Courtney bought a nice home 3 blocks from campus and soon had four children. In the dozen or so years that he has been there he has achieved the rank full professor with tenure and is Assistant Director of the of Department of Music. My wife Jamie and I have become big supporters of the university and have endowed 6 scholarships for brass. The department graciously named a large room in our honor called "The Jim('65) and Jamie Self Brass and Jazz Rehearsal Hall.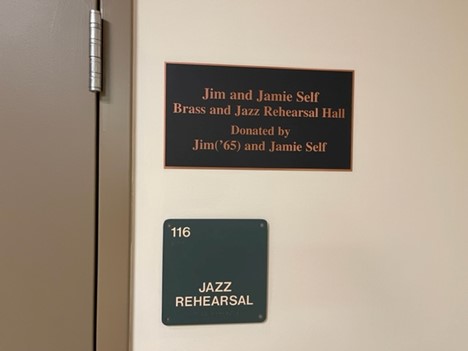 Indiana University of Pennsylvania is one of 14 state universities and is especially recognized for training music teachers in Pennsylvania. When I was in high school in small town OIl City, PA I didn't know what to do for college and had no money. My two high school teachers, Phil Runzo and Frank Puleo were graduates of IUP and, since I liked music most in my young life, I decided to go there to become music teacher. For me it was the right choice. I got to do a huge variety of musical things there that I would not have been able to do at more prominent music school—things that prepared me for a wonderful career as a performing musician, studio player, teacher and free-lance musician. Jamie and I support the acquisition of brass music at IUP and eventually all of my music and related things will be part if the IUP Music Library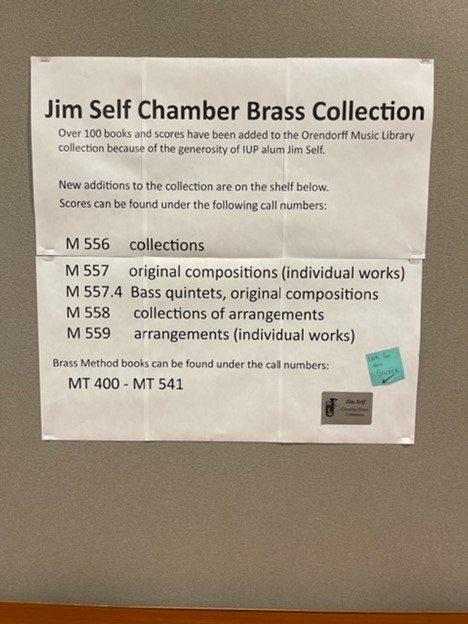 The 1st day of my residency was what Zach calls "Tubaphonium Day", an annual event where young tuba and euphonium players from all over the area come to play, hear artists and learn from clinics. I was the guest artist this year and several dozen young musicians came, played music and enjoyed the festivities. Zach's entire tuba/euphonium class at IUP ran the event. I soloed, conducted, taught and hopefully inspired them. They performed several of my compositions and arrangements and I soloed on "Cavatina" and "Polka.com".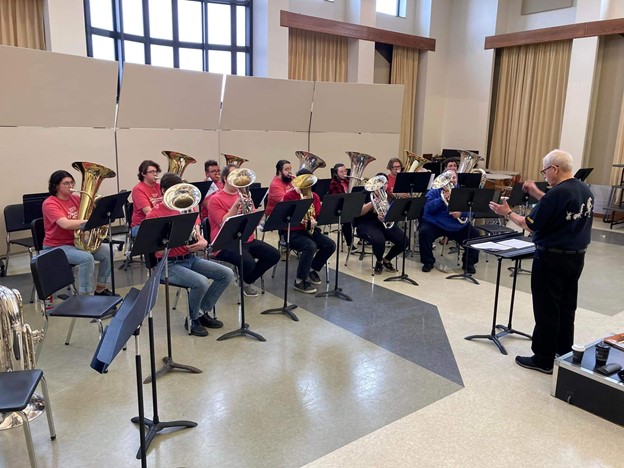 That evening we held a jazz rehearsal for a concert that was to be presented later in the week. But 15 hours of being on my feet was exhausting for a "old dude" like me. But it was an exhilarating day!
On Monday theory professor Christine Clewell invited me to talk to 3 sections of her Theory IV classes about my career journey—especially how I composed music. For me it was a late in life endeavor. I believe I wasted 30 years of my life before I had the courage to compose. But once I discovered that "muse" at age 48 I "took off" and have written over 80 works to date. The main thrust of my advice to them (and to all young music students) is to begin writing NOW! I had much more to say but little time in those classes so we planned another session on composing later in the week–for any interested students. The rest of Monday was devoted to private lessons with Zach's students — they impressed me. That evening Zach and Courtney had me and all the low brass students to their home for food and a "hang".
Tuesday was filled with more lessons and rehearsals. I also sat in on a rehearsal of the IUP Tubaphonium Ensemble. The Keystone Winds, a group of faculty and other good regional band musicians was started by the retired IUP band director and composer Jack Stamp (an iconic musician). The conductor now is bassoon Prof Jason Worzbyt. They commissioned me to write a piece for an entire wind and percussion faculty to be premiered during my residency. I wrote for 13 musicians: a brass quintet, a woodwind quintet, a saxophone and 2 percussion. With the advice of Zach I named it another one of my "punny" titles, "Two Wares". It's in two contrasting movements: A Ware and B Ware. Lots of fun!
The evening concert in Gorell Hall featured an entire program of my compositions and arrangements played by the faculty and outstanding students (see program).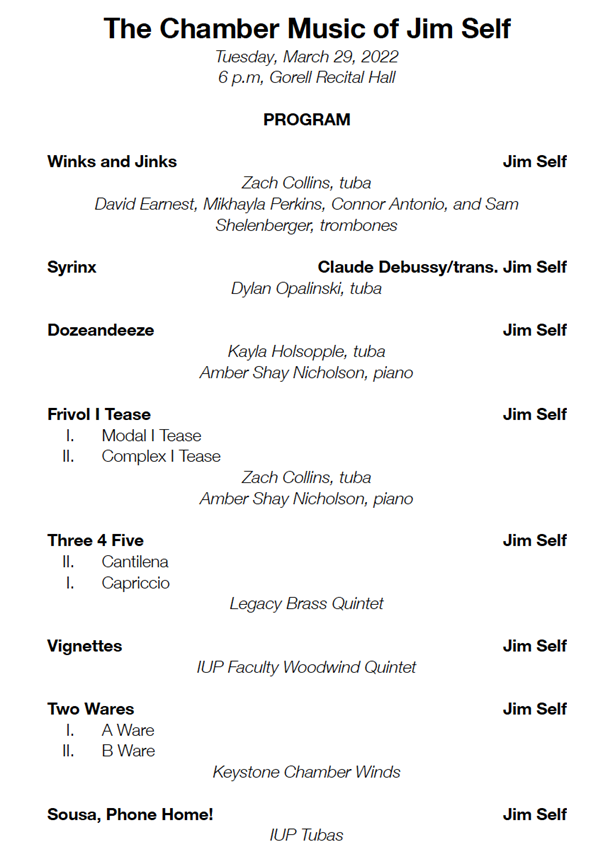 At the end of the concert about 15 young men (all members of Phi Mu Alpha—the honorary music fraternity) came up on stage, formed a circle around me a sang a gorgeous tribute song to me — in beautiful 4-part harmony. I am a lifetime member of that chapter. I cried. I'm still crying!
Then we had another late-night rehearsal of the 13 piece David Angel Jazz Ensemble — with a mix of excellent faculty, student and regional jazz players—and me as the leader and tuba soloist. This is a band that I have played tuba and bass trombone in for many years. David's music is gorgeous and uniquely contrapuntal. His band has been a Los Angeles "rehearsal band" since 1969 but never had a recording. It is packed full of the best jazz musicians on the west coast. In January 2020 I produced and we recorded 22 of David's brilliant compositions and arrangements. Then we spent a year of the pandemic mixing a triple CD set called "Out on the Coast". I also had all of David's music preserved on PDF–and engraved the recorded charts. I brought 7 of them with me to IUP and, on the final concert, we played his music—for the 1st time ever outside of Los Angeles. I also played a couple of jazz tuba tunes with the rhythm section and tenor sax man Ben Saylor. Boy was it fun! It was my first time leading a big band and I appreciate the difficulty of doing so. Trumpet man Kevin Eisensmith, played that night and helped organize a great band.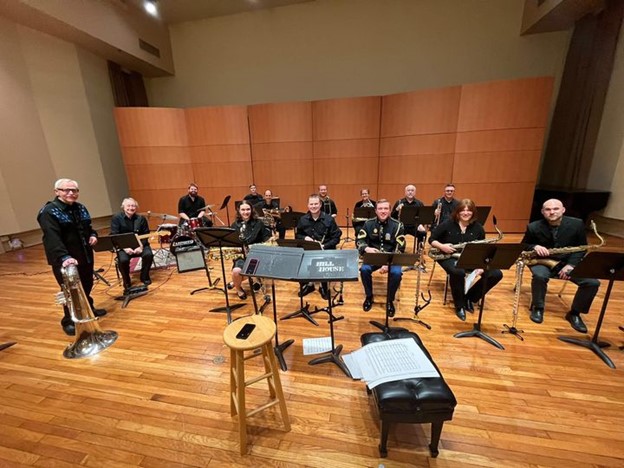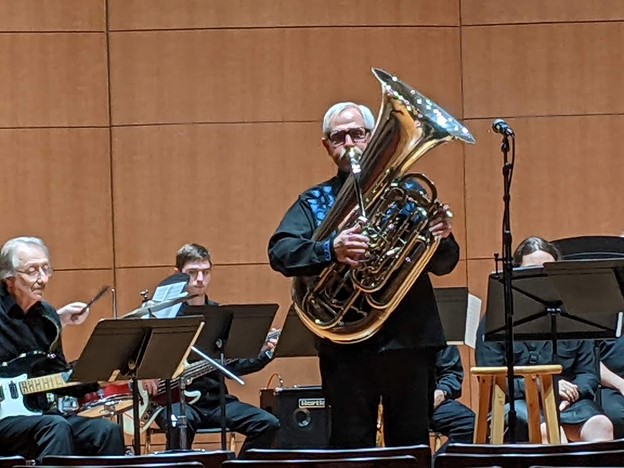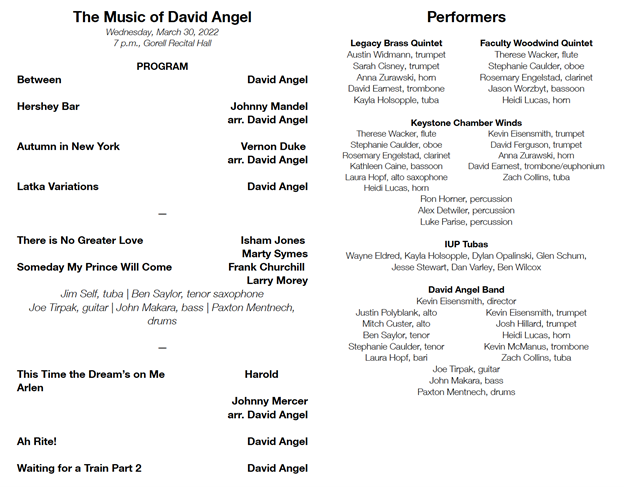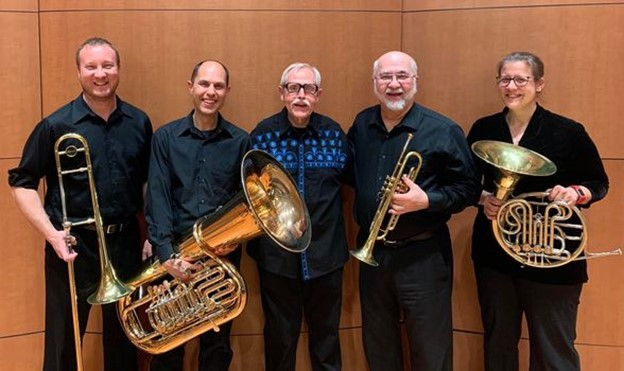 On Wednesday, my last day in residency (before the jazz night) I gave a cool class on my ideas for composing music. With Zach's and grad tuba student Dylan Opalinski's help on the computer the whole class (as a group) composed a quirky little piece. It was my 1st time talking about composition and I hope to do more in the future–at other colleges. I also gave some private lessons that afternoon. All three of my evening concerts were attended by one of my dearest friends from my student years at IUP, Paul Walker.
So my residency at Indiana University of Pennsylvania was over. On Thursday I drove to Pittsburgh to do a 4-hour master class at Duquesne University. The tuba professor there is the same James Gourlay who conducts the River City Brass Band. He brought in Pittsburgh's great jazz guitarist, Eric Susoff and the two of us played a 30 minute duo tuba/guitar jazz set to open the master class.
Then we had a great Q&A session with the brass students. James and I played one of my tuba duos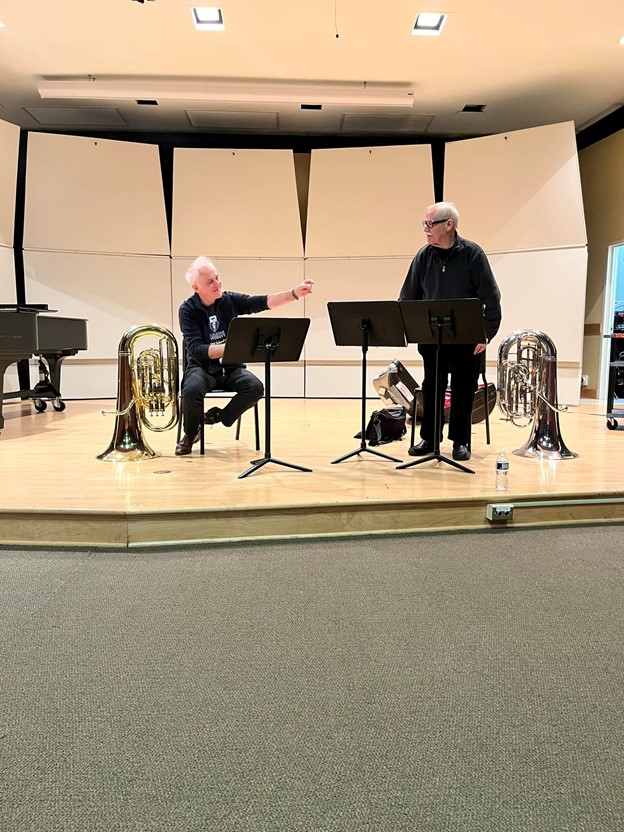 and I worked with his students demonstrating the things I that think all musicians should do to get better. Finally, all the tuba, euphonium and trombone students (and one trumpet player) came on stage and played I my 6-part arrangement of Sibelius' "Finlandia". I conducted. To top off the evening we all went out for a pizza "hang".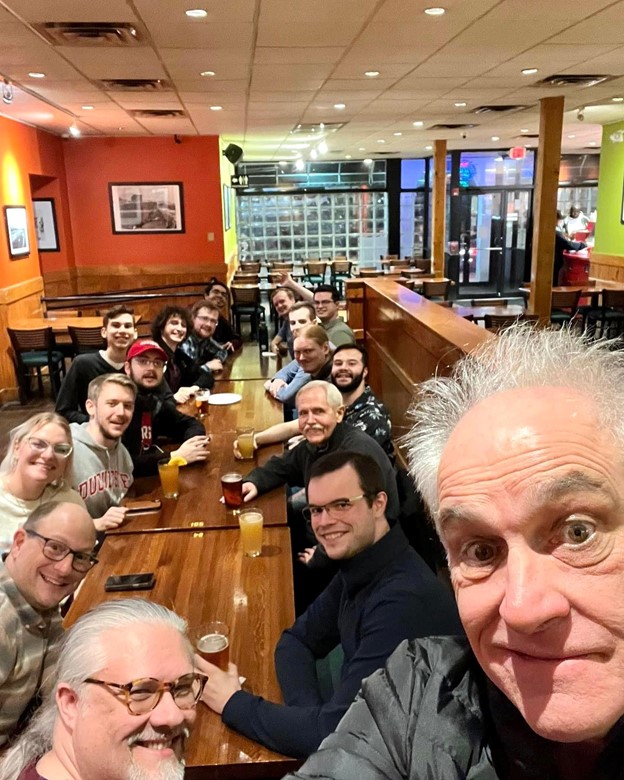 I spent the last night at James and Lea's home and drove to the Pittsburgh Airport this morning. There I had breakfast with a friend from high school in Oil City, Judy Oliver Samson–who lives Pittsburgh.
I am writing this memoir on the airplane back to Los Angeles while it is fresh on my mind.
It was one of the happiest weeks of my entire life!
Jim Self
April 1, 2022