A Memoir
Jamie and I just spent a wonderful week in New York City. It has been over 30 years since I was in there. My first time, when I was 15, I went there to compete in a National Majorette Drill Team Competition with Oil City's own Indian Bonnettes. I played bass drum in the rhythm section and we won the National Championship. In 1965 went to the NY World's Fair with The US Army Band. While there we also played a concert in Carnegie Hall. Later I took private tuba lessons with the great Harvey Phillips in 1976/77–commuting from my gig in The US Army Band in Washington DC. In 1977 I was in the city with the unique Don Ellis Big Band. We played Avery Fisher Hall on our way to 3 weeks of Jazz Festivals in Europe. One final time in the late 80's I visited the city to be part of a the Charles Colin sponsored brass festival that honored Harvey Phillips. At one time I contemplated going there to free-lance but decided on Los Angeles instead. I didn't want to be both poor and cold.
This trip was because Pacific Symphony went there to play our debut concert in Carnegie Hall.
It was a program honoring the 80th birthday of composer Phillip Glass. The orchestra had commissioned "The Passion of Ramakrishna", a large oratorio-like piece with choir and soloists for the opening of the new Segerstrom Hall in 2006 and later recorded it. We were invited to Carnegie to perform it and some other Glass and Shankar pieces. It was a big deal for the PSO and the Pacific Chorale. Carnegie Hall is the pinnacle of concert venues and it is a wonderful place to play. Jamie and I decided to stay a whole week in the city so we could spend time with our granddaughter Maya who is finishing her sophomore year at New York University. I also took the opportunity to book a night in a jazz club for my duo with guitarist John Chiodini. We have a new CD called "Floating in Winter".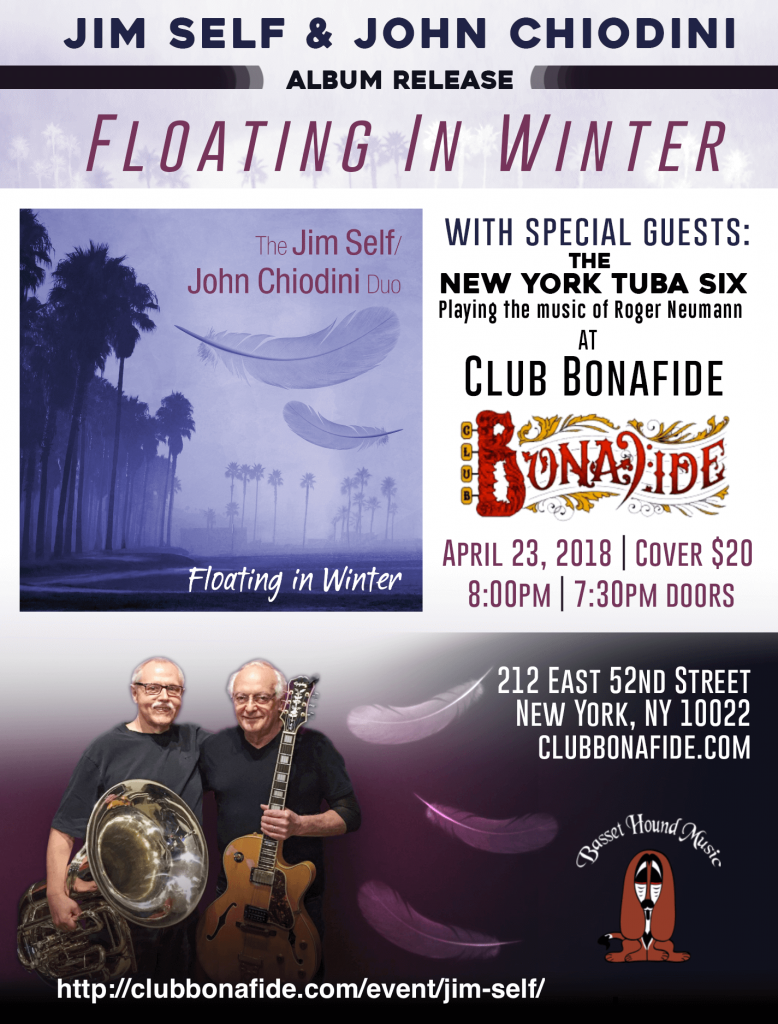 We had done a CD release party in March at Vitello's in Studio City and decided to play a similar concert at Club Bonafide in New York. It's been a long-time dream of mine to play in NY, the "Mecca" of Jazz. John and I have a special musical rapport and a terrific CD together and thought it would be a perfect time to do the "Big Apple". I had to schlep my Yamaha F Tuba and my Fluba to NY—quite a chore. We had to rent three guitars there for John too. It's like being "on the road" and I certainly did not like the schlepping—but we wanted the Jazz night to be 1st class—and it was! With the help of NY tuba pro Marcus Rojas (and Andy Bove) we got 6 young tuba players to join us. I called them the New York Tuba Six—three graduate students from Manhattan and Juilliard Schools of Music and three pros.
We arrived on a Friday and the next morning the symphony arranged a publicity photo shoot for me. Photographer Annaliese Varaldiev took me to the Wall Street offices of music publisher Carl Fischer where they have a HUGE triple BBBb tuba for me to play and get photos with. It is over 100 years old and has no working valves. They wanted me to play happy birthday on it. It was quite a chore having to play in the upper partials. But it was a fun thing to do.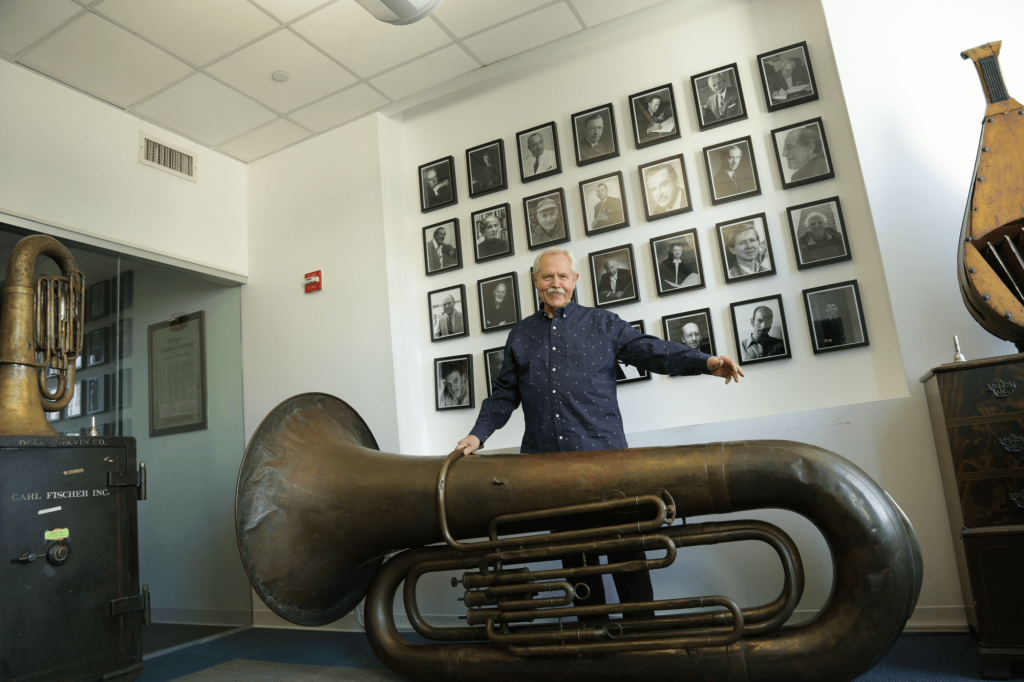 That afternoon the PSO had a dress rehearsal at Carnegie and Saturday night we played to a sold out house. Maestro Carl St. Clair, the Pacific Chorale, Soloists and the Orchestra were all in fine form. The reviews were glowing and the orchestra added a new success in its young career. (next week we tour China) Sunday morning I went to The Manhattan School of Music to rehearse the NY Tuba Six. I have several great jazz arrangements for 6 tubas by my dear friend Roger Neumann. The young musicians: Andy Madej, Jay Uschold, Ryan Hayward, Samantha Lake, Ron Caswell and Ben Vokits were terrific. That evening Jamie and I rode a subway to Washington Square to meet up with granddaughter Maya.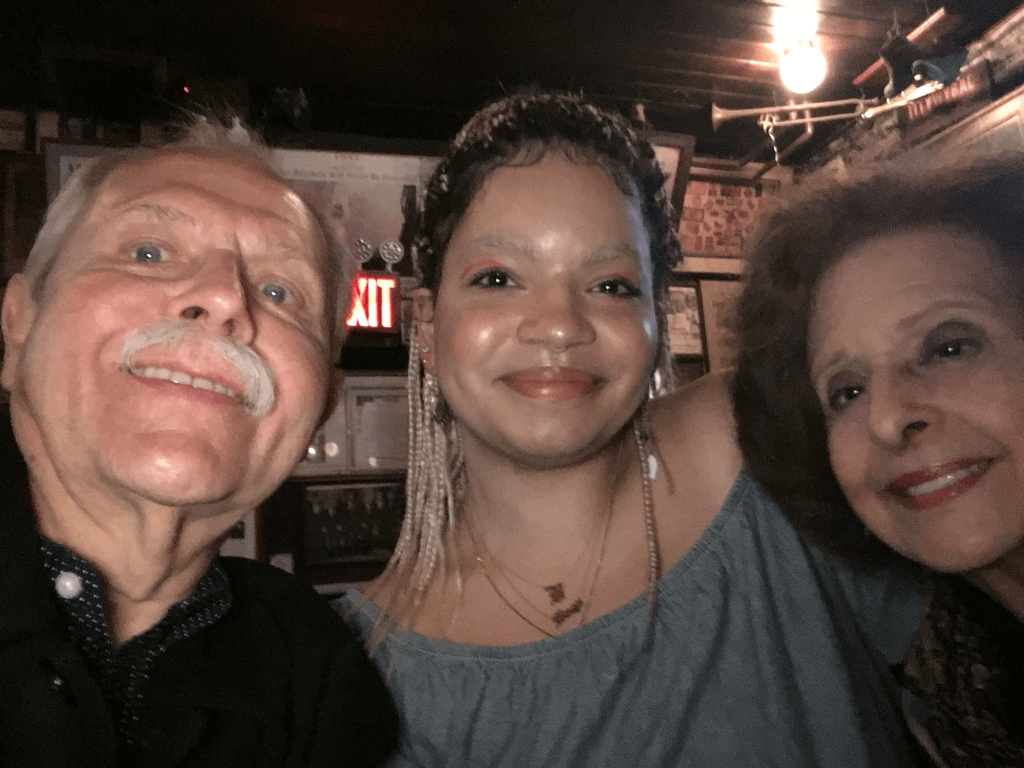 We had beers at the "funky" McSorley's Old Ale House in the east village. McSorley's was the place where the great Tubist Bill Bell hung out with all the other NY tuba players in the 50's and 60's–and where Tubists Universal Brotherhood Association (TUBA) started. Bell's picture is still on the wall.
Going there is almost a right of passage for tuba players. After an Italian dinner with Maya we returned to our hotel near Carnegie Hall. John Chiodini and his wife Ginger got into NY that night too.
On Monday AM John and I took a cab over to Studio Instrument Rentals to get 3 guitars for him and later I swam laps in the hotel pool. Early that evening we met at Club Bonafide, were welcomed by club owner Charles Piazza, had a sound check and rehearsed the tunes with John and the Tuba Six. At 8 PM we played a 90 minute concert to an enthusiastic audience (and hang) that included many of NY's finest professional tuba players (Steve Johns, Marcus Rojas, Morris Kainuma, Ben Stapp, Brian Nalepka, Kyle Turner, Dan Peck and others) and even some friends from LA. We got many kudos and some good reviews too. I satisfied my longtime wish to play jazz in New York. John Chiodini was BRILLIANT! It was one if the most fun nights of my musical life.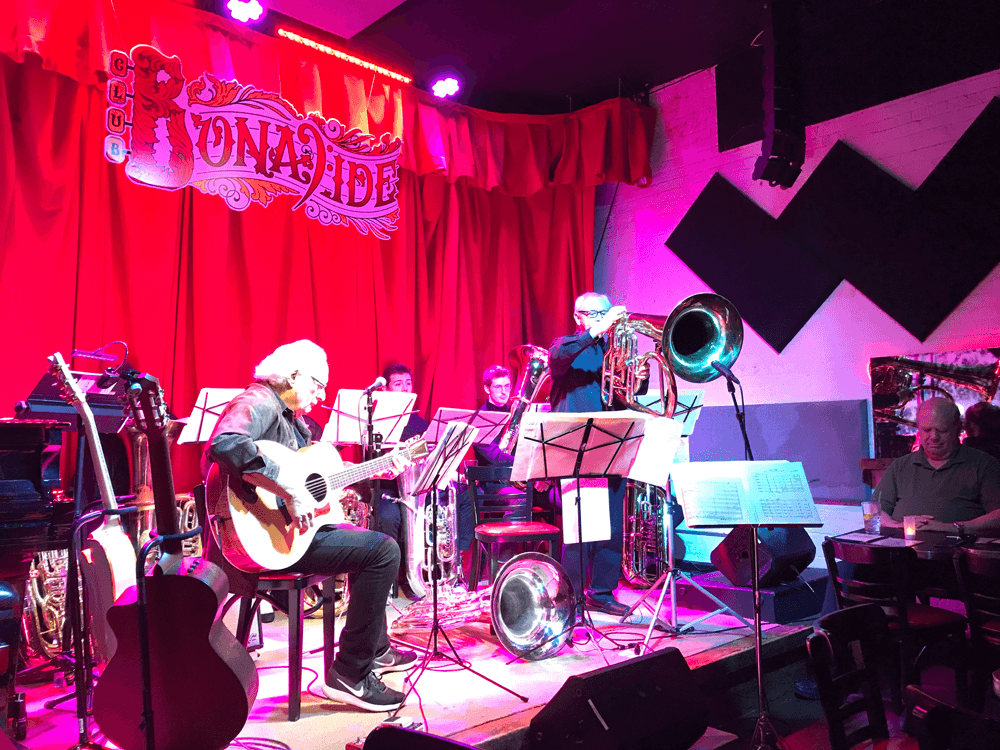 On Tuesday the playing pressure was over and I could enjoy some good meals with Jamie and other friends. Boy, New York is expensive! It's also super busy. It takes a lot of energy to be there. It is a beehive of activity—and it is cleaner, safer and more efficient than in my earlier trips there. The cabs and subways are everywhere. We did not get to the N.Y.Phil, MET or theaters—ticket prices were unbelievable (opera tickets started at over $200 and went to over $800–ouch!). Charlie Mann, my former MM student came into town and we had a nice Thai lunch together—nice to see him upbeat
and know that he is playing on Long Island. That evening we had a fine Italian dinner with my LA pal Bob Sanders and hi wife Virginia. Bob is the retired bass trombonist of the Pacific Symphony and now AFM president in Orange County and was in NY to support the Pacific Symphony. I later walked over to Central Park and enjoyed an evening repose there.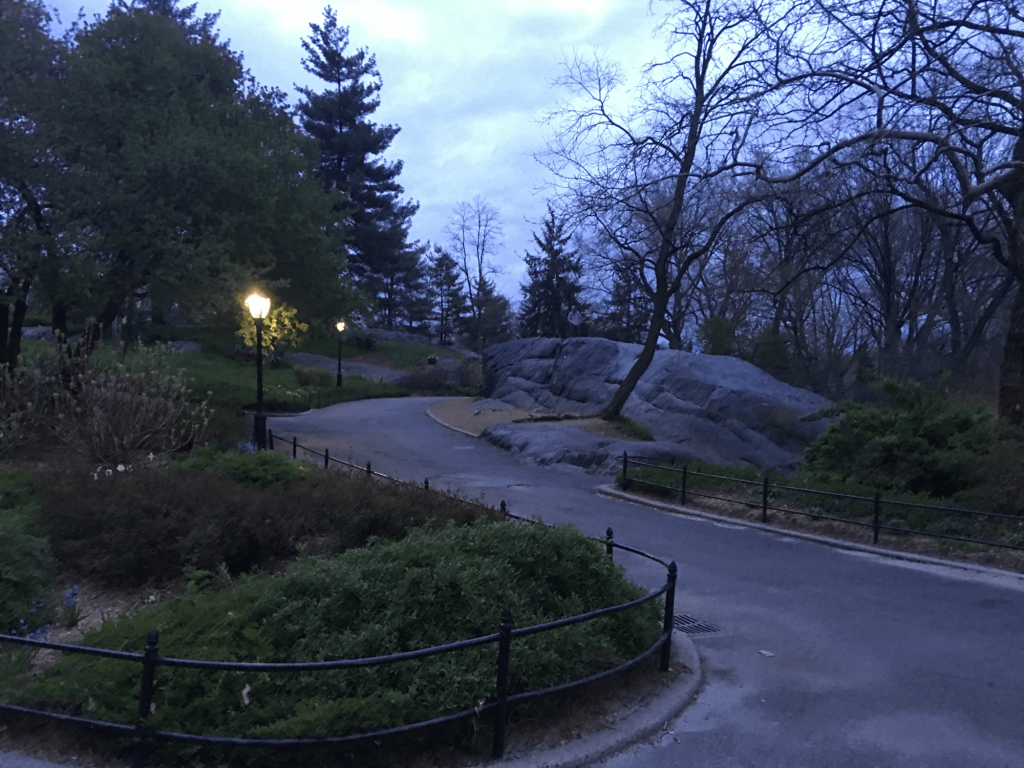 While walking back I got a phone call from Howard Johnson, the famous jazz tuba and sax player. He regretted not making it to my jazz club gig and we chatted about lots of things. It was nice to re-connect. He wisely warned me of walking on the streets of NY and talking on a cell phone.
On Wednesday morning I did get to a rehearsal of the NY City Ballet Orchestra at Lincoln Center, doing music of Leonard Bernstein—they were great, The Hall is beautiful and has a big pit. My memories of taking lessons there with Harvey in the State Theater (and up in the Carnegie Tower) are vivid. Once, after traveling to NY for a scheduled lesson I finally reached Harvey at 12:30 in the morning. He apologized that he had no time to give me a Saturday lesson but, if I had a black suite, I could sit in the pit for a Nutcracker performance. In the morning I went out and bought a $26 suit and
got the best lesson of my life in the pit that afternoon. My colleague in the Pacific Symphony, bass trombonist, Kyle Mendiguchia is playing that gig for the whole year. He and principal Tubist Dan Peck sounded terrific.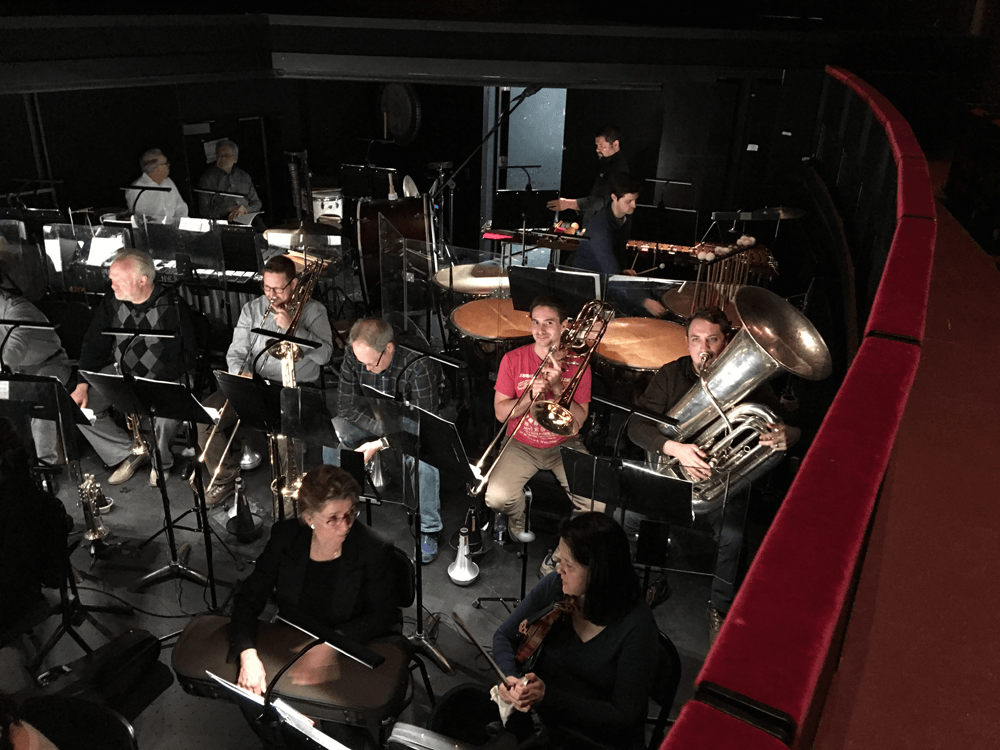 The three of us had lunch across the street at The Smith—a famous eating place. That evening Jamie and I returned there for dinner with Marcus Royas and his wife Ellen. Marcus is a busy NY tuba and bass player and we share so many career experiences playing orchestras, jazz and studio work. He's a special friend. Later that night I went back to Club Bonafide to hear a great blues band from Harlem, Keith "The Captain" Gamble & the Nu Gypsies.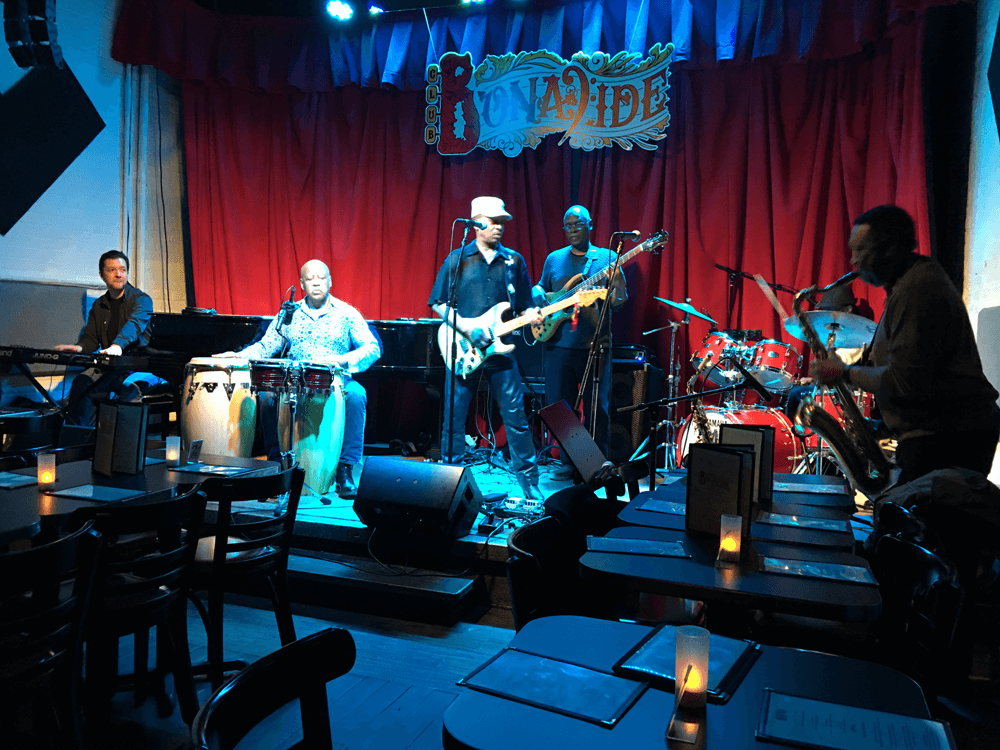 Thursday morning I took another cab over to the Manhattan School of Music on the upper west side where I gave a two hour clinic/master class with their excellent brass students. It was organized by David Jolley, head of the brass area with the help of Kyle Turner, the tuba professor, and N.Y. Phil trombone player Dave Finlayson. I showed the video montage I have of many of my tuba solos in the movies, worked with the 5 tuba students and then had reading rehearsals of one of my compositions, Bottoms Up. We did both brass quintet and a tuba quintet versions—very interesting comparison. We finished with a nice lunch with the tuba students.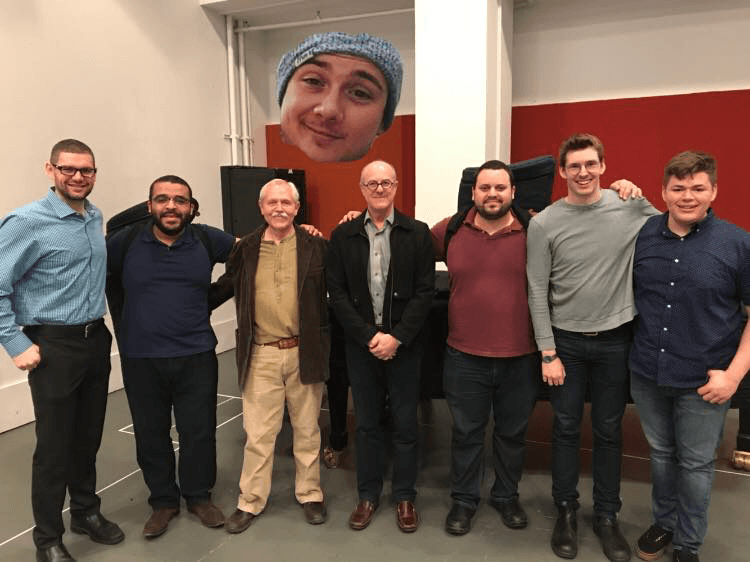 That night we went back to the Village for dinner with Maya. Late that night I met up for a drink with another old friend, Morris Kainuma. He is a busy NY tuba player and super nice guy.
Friday we did the return schlep to La Guardia Airport with my Tuba and Fluba and now on the plane to LAX—tired, but full of great memories of a week in the Big Apple.
Jim Self
4/27/18