A Memoir
This is my 4th travel memoir this year. Each one required music performance and teaching. After 2 ½ years of COVID I am making up for lost time.
The Amigos met up a Newark Airport for our flight to Lisbon. A glitch in the plane made us 4 hours late—but we did go that night.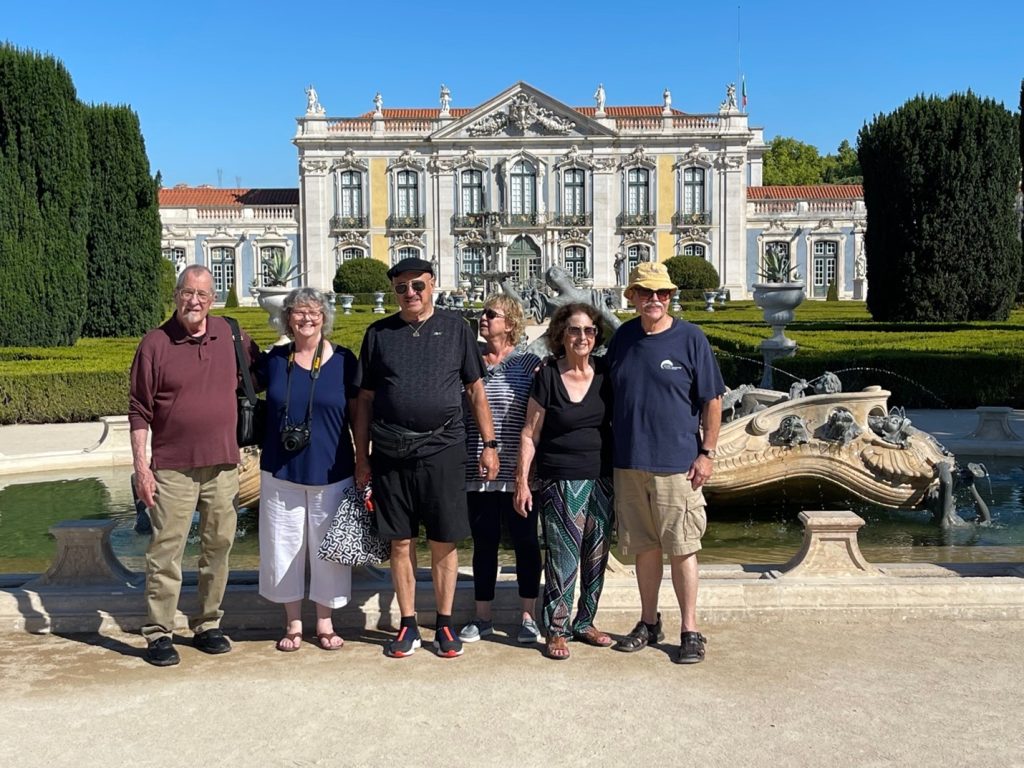 For several years now Portuguese tuba virtuoso Sergio Carolino has hosted a low brass festival/academy called Gravissimo in his hometown of Alcobaca. He has often invited me to be a guest artist but, because it was held in late August, it always conflicted with the beginning of the Los Angeles Opera season—and I was unable to participate. This year he scheduled it in late July. It was extra special because he also invited two of my best friends, Dan Perantoni and Winston Morris. We are known in the tuba community as "Los Tres Amigos". We have been lifelong friends and (with wives Jamie, Judy and Ellen) have spent many Christmas/New Year's holidays together in warm places. Unfortunately, COVID cancelled the last two trips to Aruba. So, coming to Gravissimo gave us a reason to expand it into a real vacation for the six of us. After the festival we spent 2 days in Lisbon, flew to Paris, spent a week on a Seine River Cruise to Normandy and ended with 2 days in Gay Paree!
Gravissimo is a unique summer music festival/academy. Sergio invites several of the best tuba, trombone and euphonium artists from around the world. It is more "laid back" than others I've attended–with concerts in the evenings and master classes and clinics during the days. It's in the ancient town of Alcobaca—about 1 hour north of Lisbon. The central city is dominated by the Monasteiro de Santa Maria that was built in the 12th century — and is the largest in Portugal. Our hotel was located right across the street and we had a great view of it. Like most monumental buildings in this part of the world, it was built of local limestone and the huge nave was starkly plain. Several of the concerts took place in around the Monastery.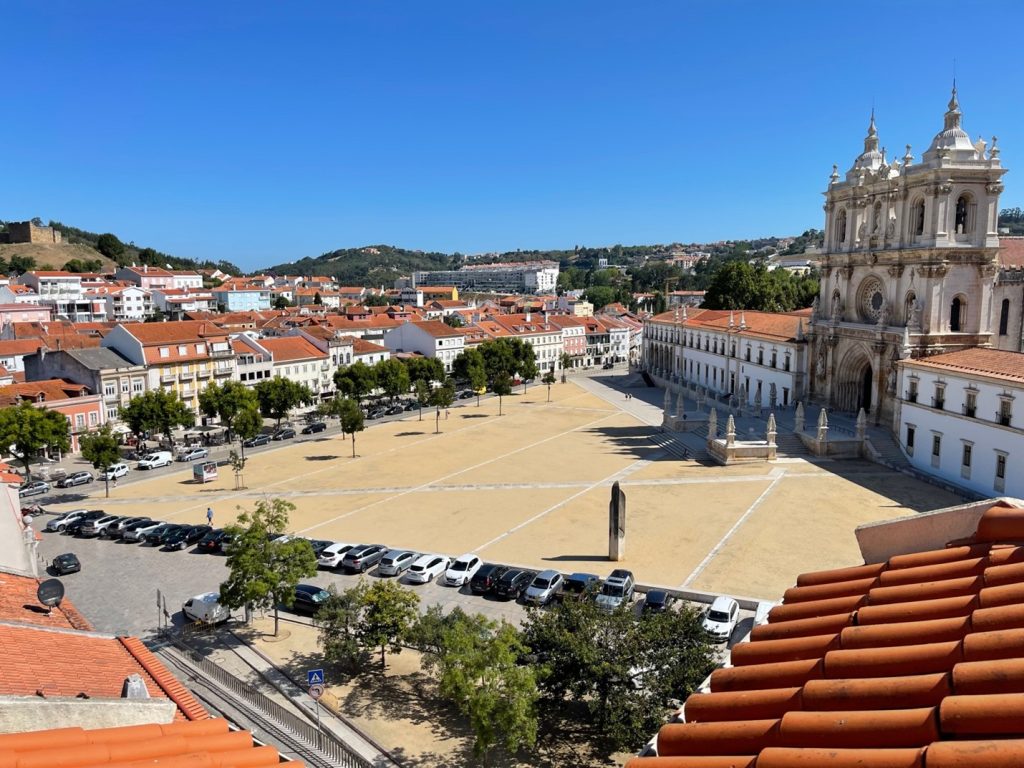 Sergio had a team of Arts professionals that host many events throughout the year. It was ably led by Susana Martins. Lisbon Trombone virtuoso Hugo Assuncao was also a co-organizer with Sergio. The opening night concert featured Sergio and Hugo and several other Portuguese virtuoso tuba, euphonium and trombone players.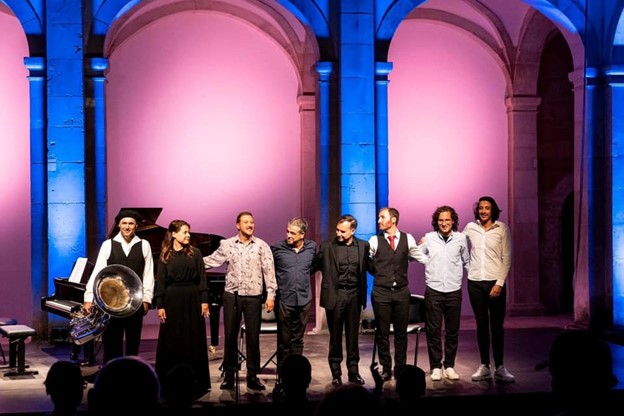 On Tuesday afternoon I gave a clinic about my long career in the movie business and showed a DVD of my solos in the movies titled "Jim Self in Hollywood". I talked about "the business", where I recorded over 1500 movie scores and hundreds of CDs with great artists. I also explained my busy mix of free-lancing in 4 orchestras, teaching, composing and recording 19 solo Jazz and Classical CDs. It seemed to be of great interest to the audience of students and faculty.
That night Winston Morris did what he is most famous for: he conducted the 8 piece tuba/euphonium ensemble. They played challenging works that concluded with my composition "Samba Deeze Days". The ensemble was named "How Low Can You Go" and made up mostly of former Carolino students who were solo artists that week at the Academy. My piece was written in April for Winston's final concert upon his retirement from Tennessee Tech University after 55 years. This this was the European premier. It was excellent and I was honored to have it played again.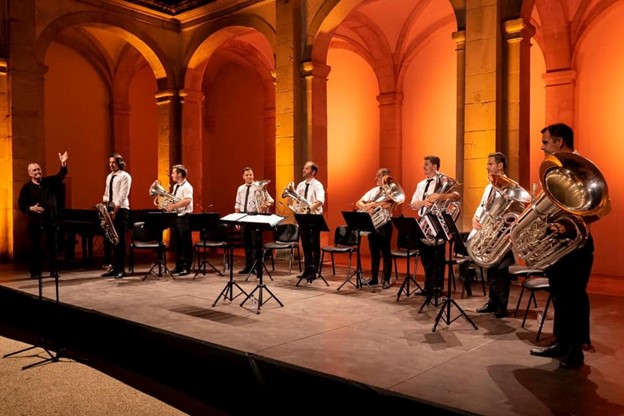 My amigo Dan Perantoni and Euphonium artist Demondrae Thurman were featured soloists with the ensemble. Both of these great musicians teach together at Indiana University. The rest of the concert featured Bass Trombonist David Taylor, Tenor Trombonist John Kenny and Thurman again. Taylor and Kenny presented extraordinary "avant garde" performances. They really stretch the boundaries of trombone playing! It was really nice to finally meet Dave Taylor. We share many career experiences–he in New York City and me in Los Angeles.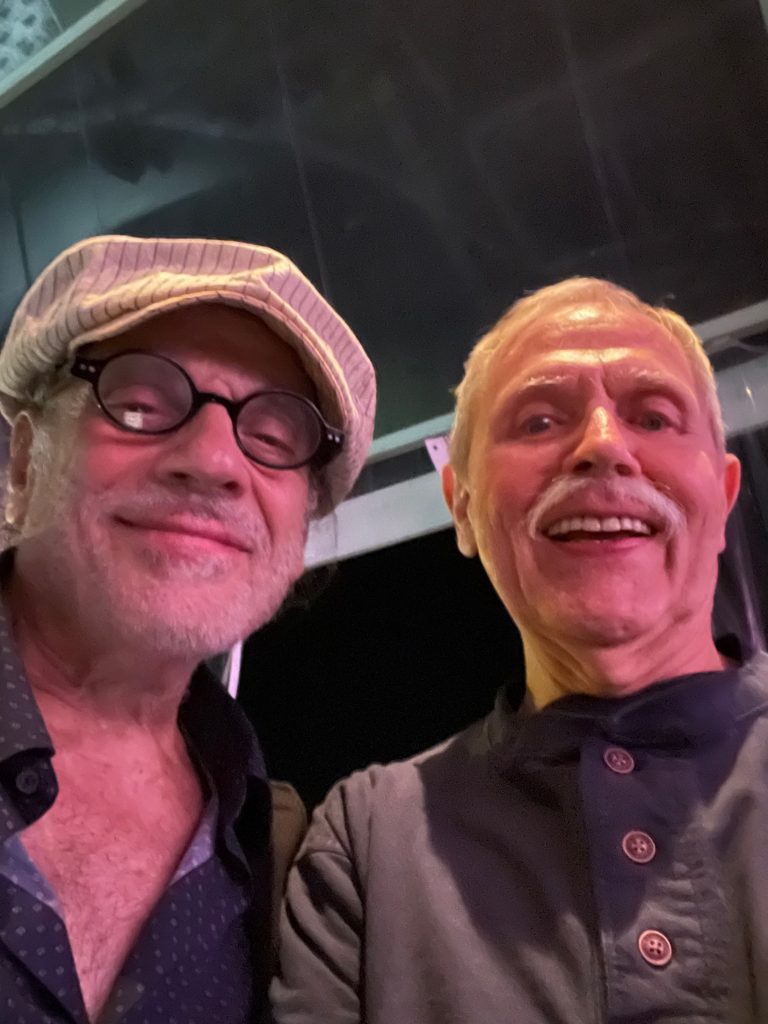 Wednesday morning I gave a master class to about 18 tuba players. We focused mainly on my efforts to get students to better use their ears through learning many songs—and try to get away from relying on reading music. The students were from several European countries and translation was a challenge. But I must say it is very obvious that Americans (including me) are terrible with languages. But most educated Europeans are quite good with English and often several languages—it's quite impressive to me!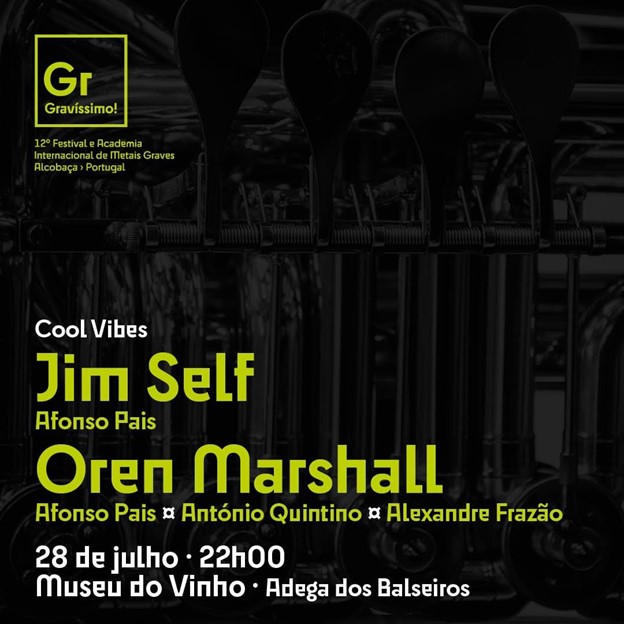 My main feature as a performer at Gravissimo took place on Thursday night in a very cool venue—a winery at "Museu do Vinho". It was a duo jazz concert with Lisbon jazz guitarist, Afonso Pais. We played an hour of music—mostly from my recent 3 duo CDs with Los Angeles guitarist, John Chiodini. Afonso was a brilliant partner that night. We ended the hour with my famous "Basset Hound Blues" tune with the audience doing the "howling".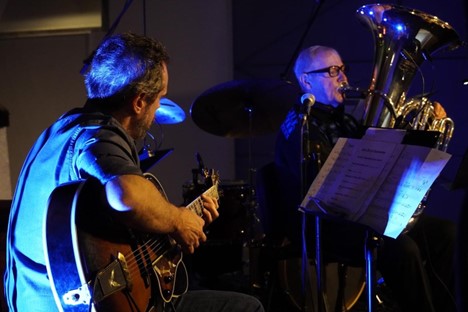 British tubist Oren Marshall sat in with us for that.
He became the featured soloist on the 2nd half of the concert. His set on his unique "Eb Tuba" was made up of all originals by Oren. His accompanying band was Pais on guitar, Antonio Quintino on bass and Alexandre Balseiros on drums—all great Lisbon musicians. One of the highlights of my time at Gravissimo was to finally meet and become friends with Oren. He is a very special musician and sensitive human being.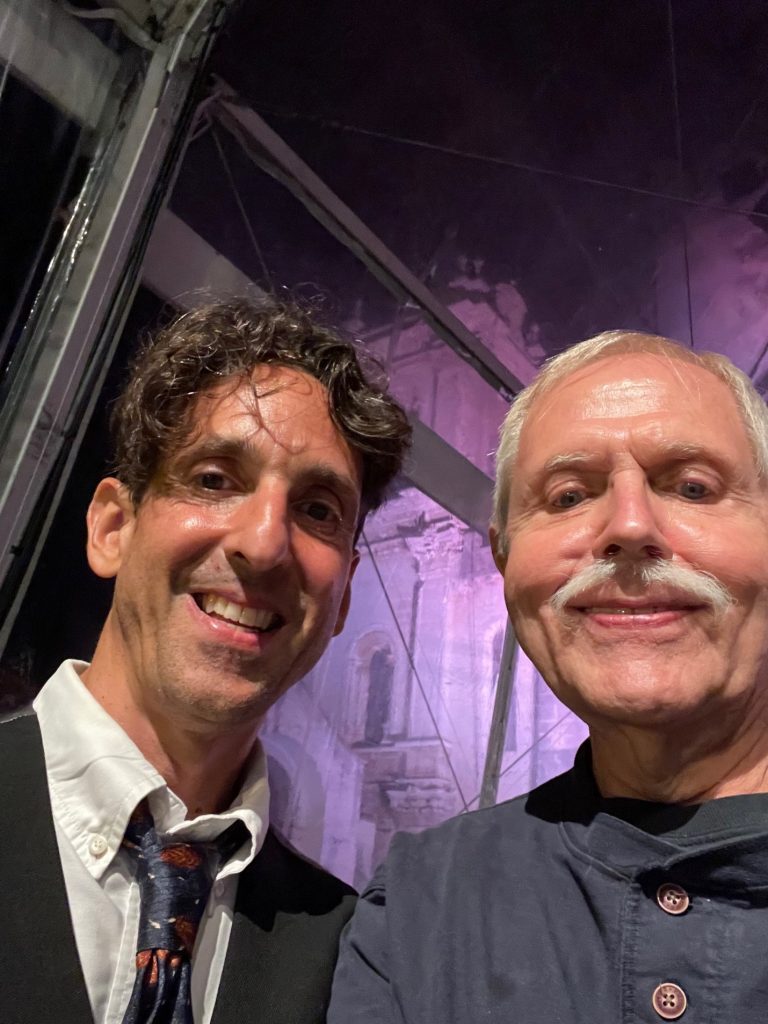 On Friday Hugo took us a few miles away to the beach community of Nazare where we had a terrific dinner at a beachfront restaurant — appropriately called Pangaea. (Pangaea was the name of the last super continent and that part of Portugal was the western most point of Europe that was separated by plate tectonics).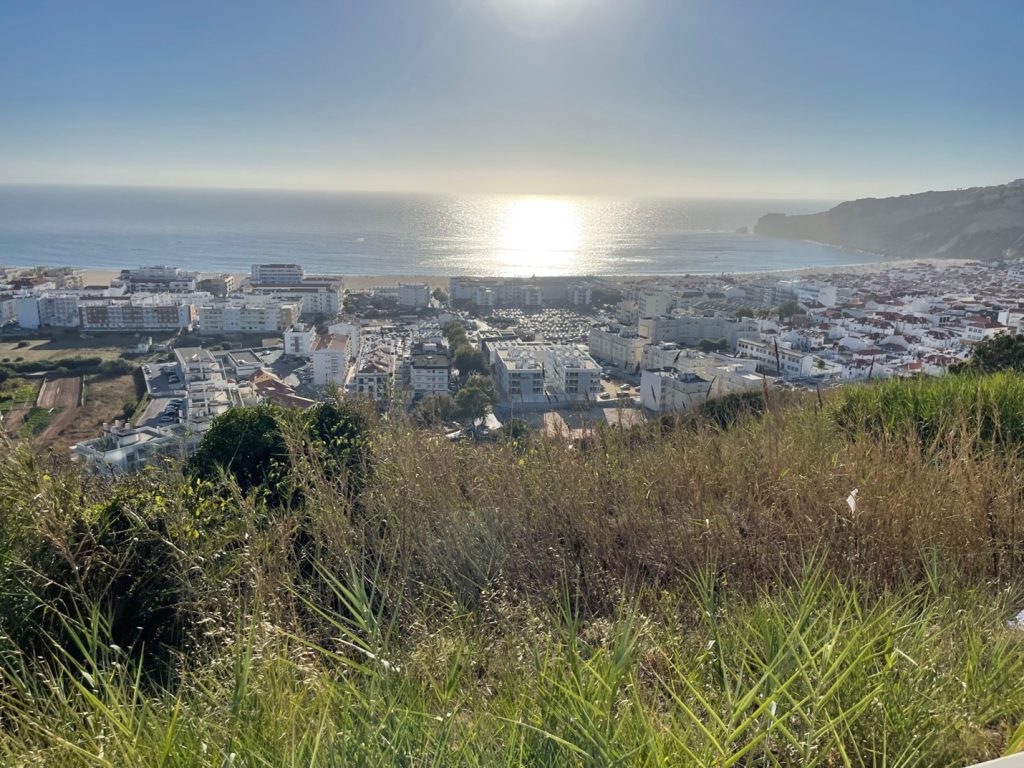 For the final Saturday night jazz concert Sergio invited Oren Marshall, Dave Taylor, John Kenny and me to "sit in" with his amazing R'B & Mr. SC Band. The group of guitar, drums, tenor trombone and bass trombone are all from Acobaca and have been Sergio's lifelong friends. Sergio played his very unique and huge "Lusaphone" on bass lines and brilliant solos. It was held outside the Monastery and was a lot of fun!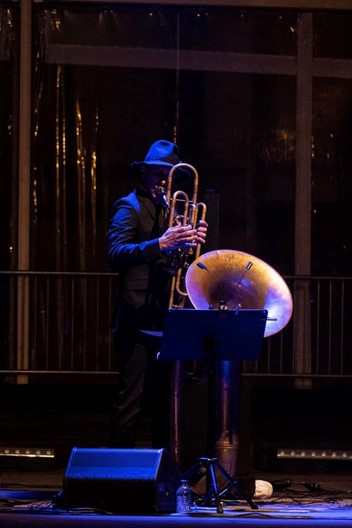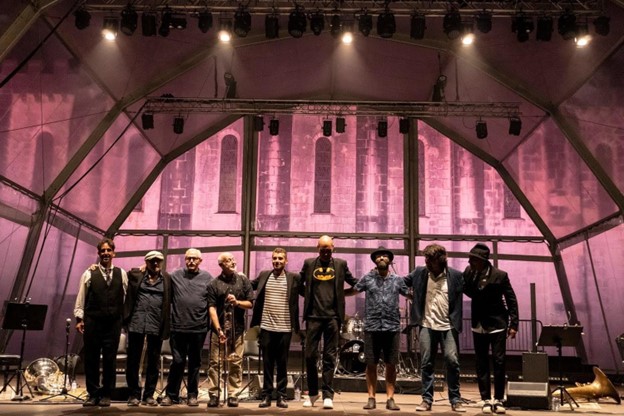 On Sunday we six Amigos and Amigas went to Lisbon for two days. We 1st took a city tour bus around that interesting port city and went to an antique carriage museum.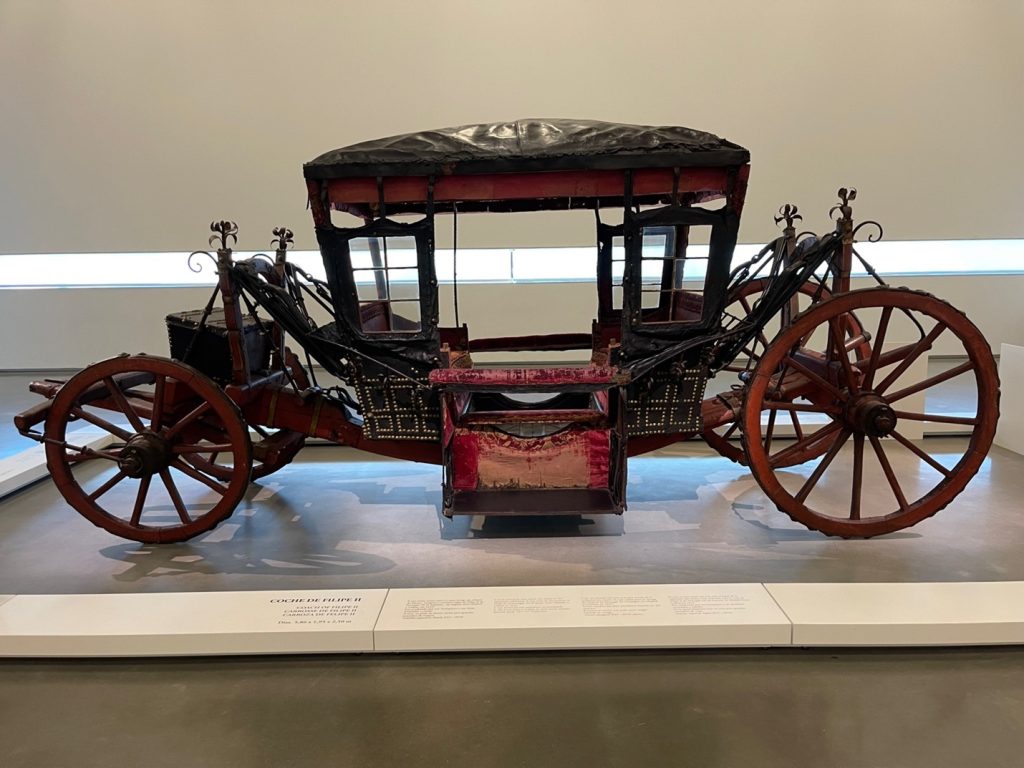 The next day we went on a guided tour of the amazing city of Sintra. The castle there was an absolute treat.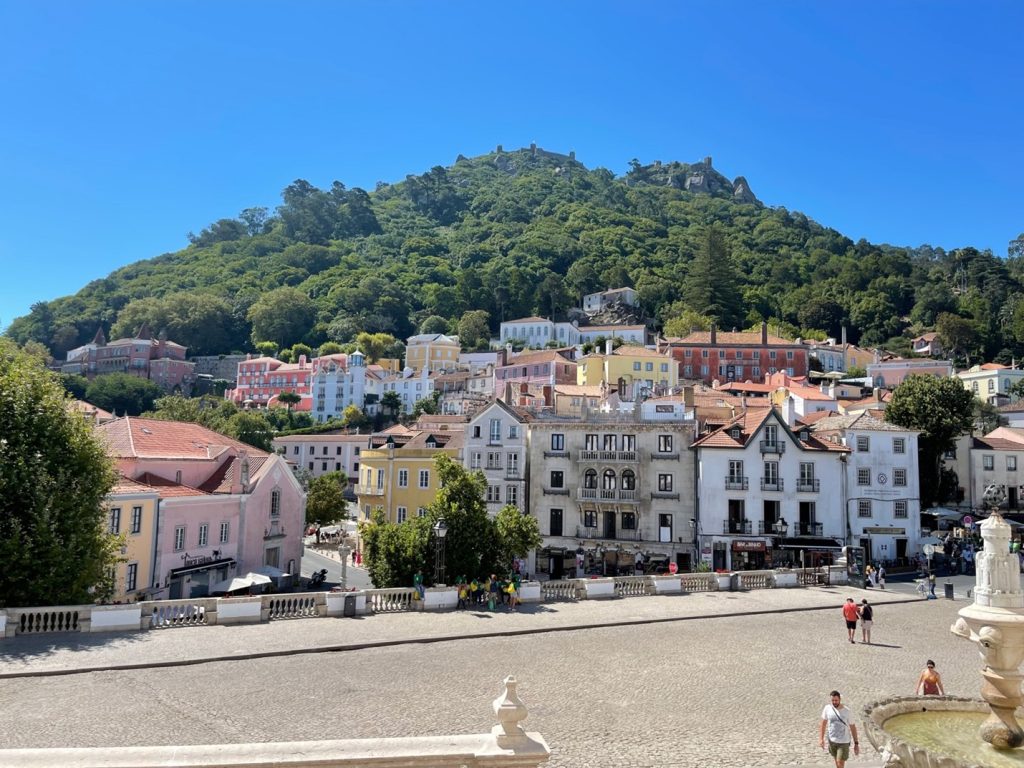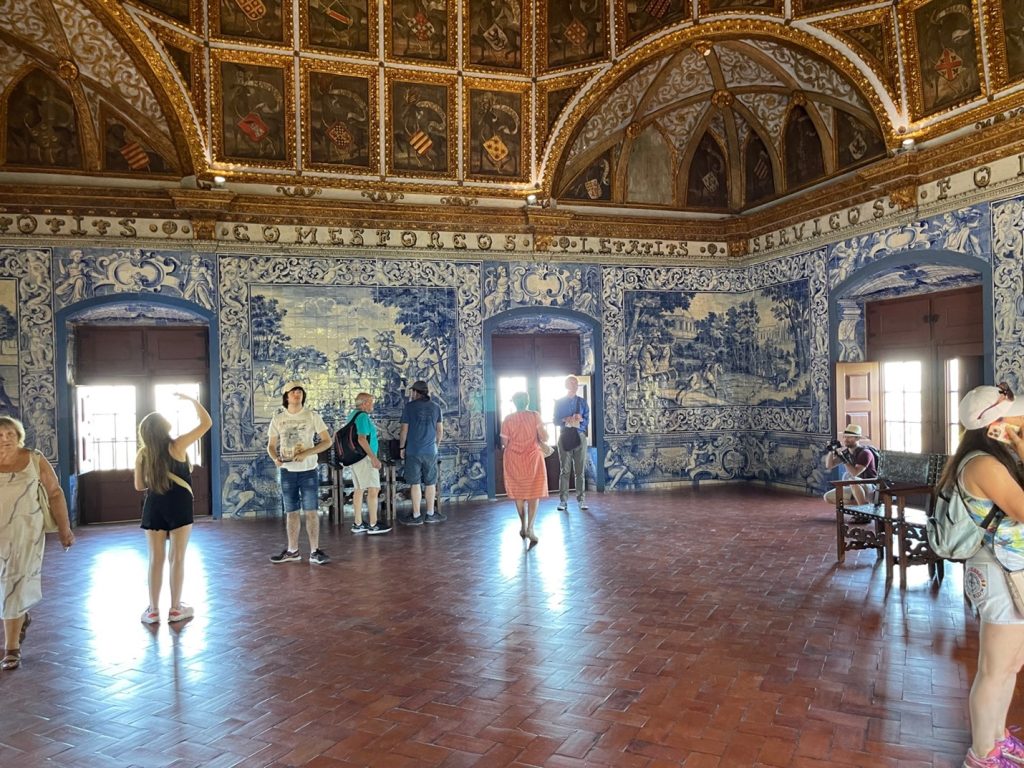 We finished our Lisbon time with dinner in a Fado restaurant. Fado is a form of nostalgic songs sung by a singer and accompanied by 2 classical guitarists. It's a special Portuguese musical experience.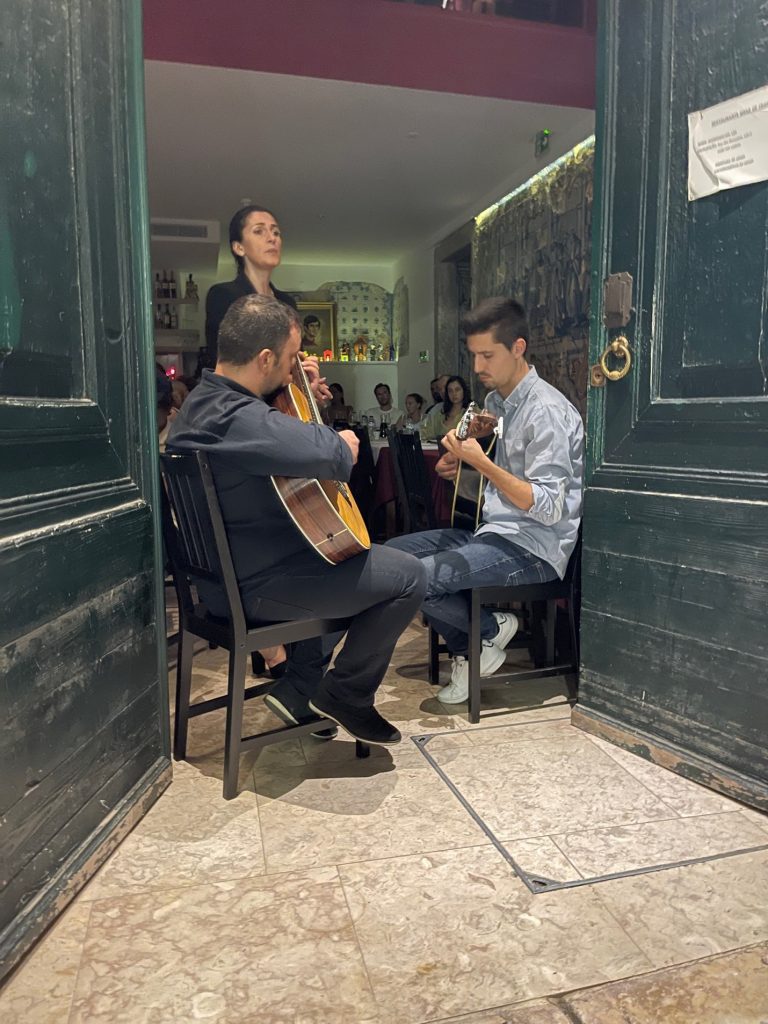 Tuesday morning we flew as a group to Paris to begin a week out to Normandy and back on the Avalon Tapistry II Seine River Cruise. It's Jamie and my 4th European River cruise but the 1st for the Morris's and Perantoni's. Jamie was reluctant to do much touring because she was still recovering from a broken hip. She stayed mostly on the ship, read and rested and was as happy as any if us. Me, being the history buff that I am, I went everywhere I could—Abbeys, Castles, Cathedrals and half-timbered old towns. While some were interested in the D Day beaches on the Normandy Coast, I preferred to visit the famous original Bayeux Tapistry. It is a 70 meter depiction of the Norman conquest of England in 1066. We have a 6 foot replica piece of that Tapistry in our San Luis Obispo town house. Then a wonderful Crepe Lunch in Bayeux.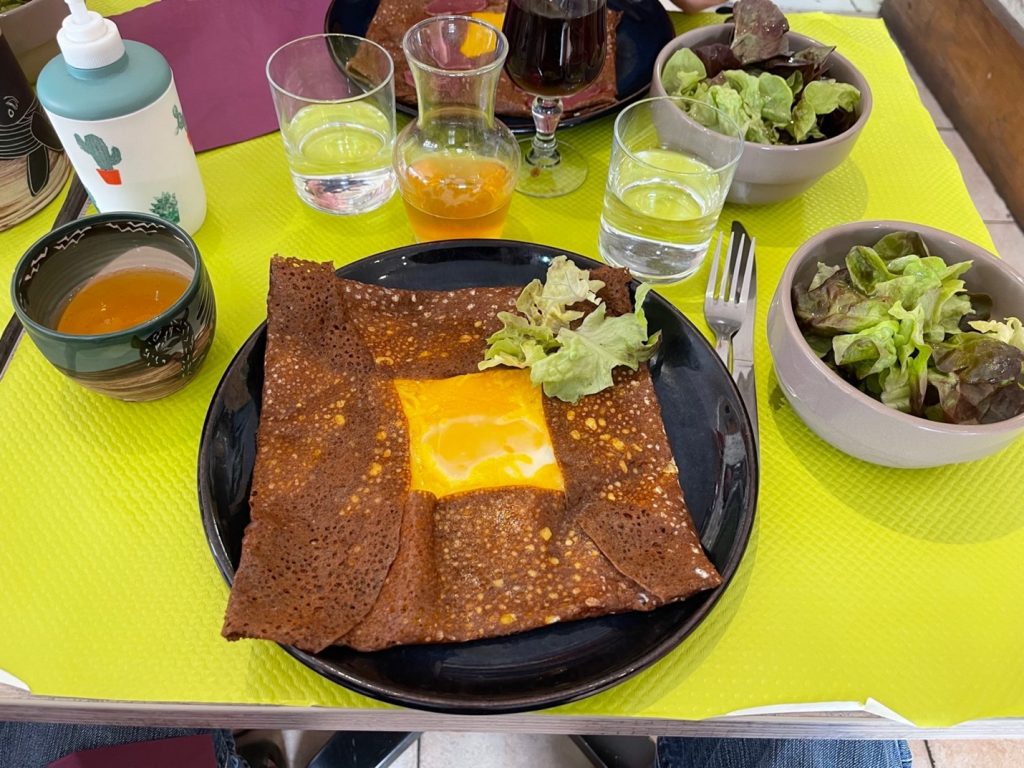 So much of Normandy was destroyed in WW II — 1st by the Germans and then by the Allies. But most of it has been restored and memorialized. Rouen was a special place for me. I also enjoyed seeing Josephine and Napoleon's Ma Maison.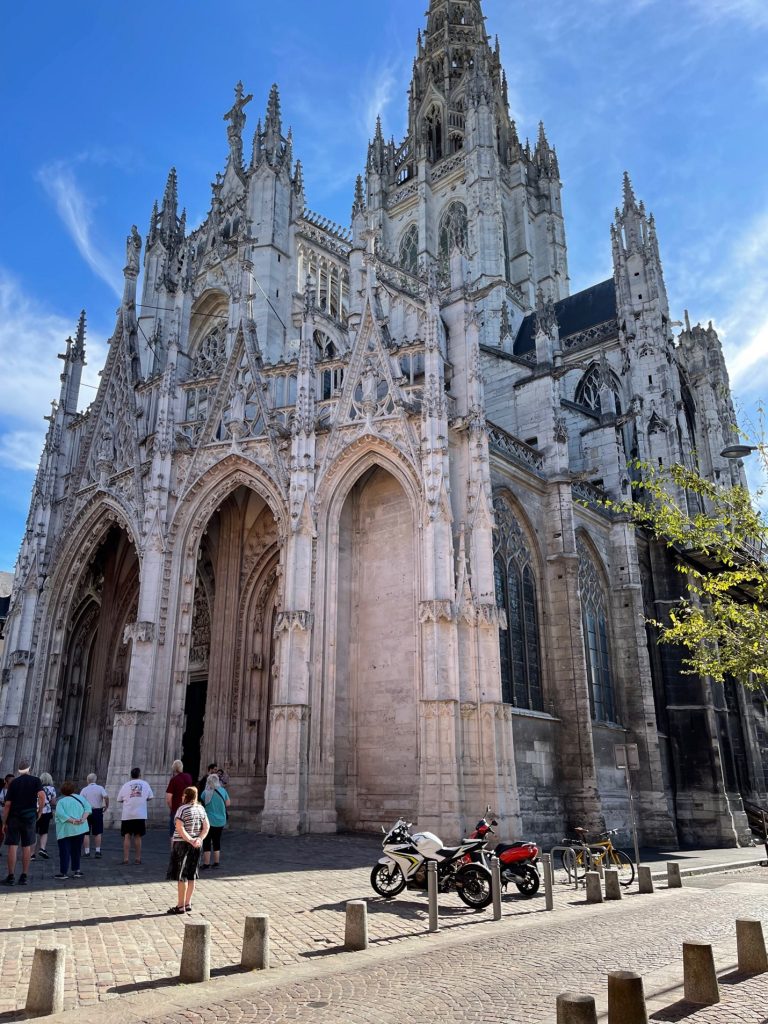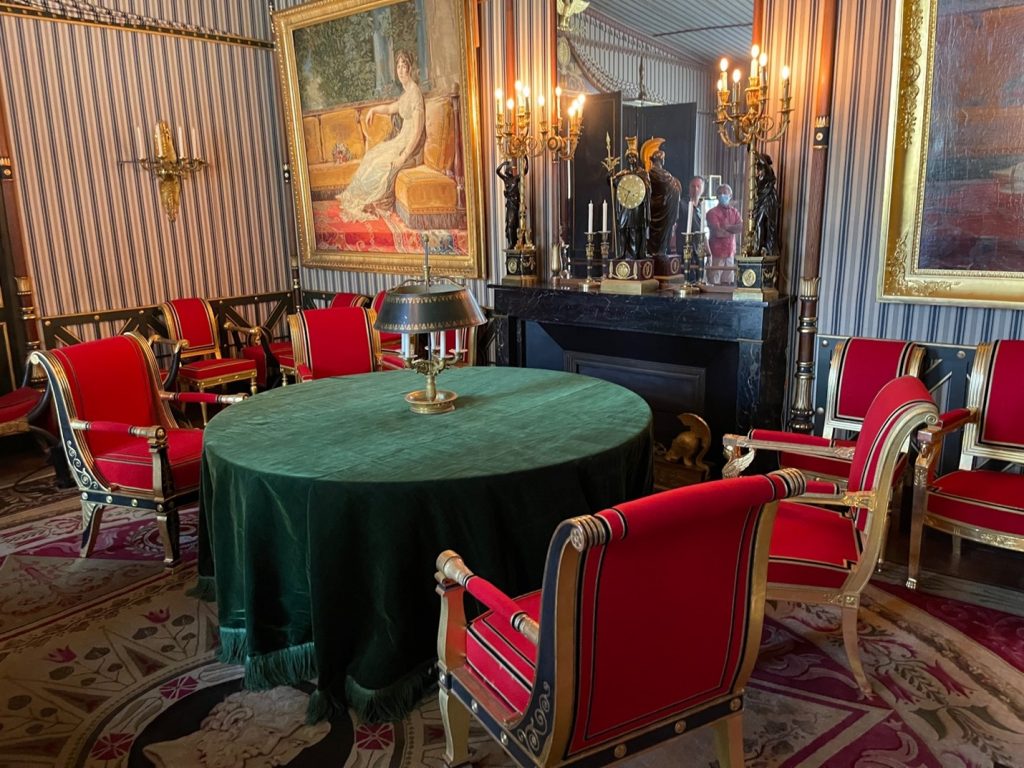 The one rather stupid thing I did (with Dan) was to climb a long path up to Richard the Lion Heart's Castle — on a super-hot day. We made it but stressed our bodies too much, I believe.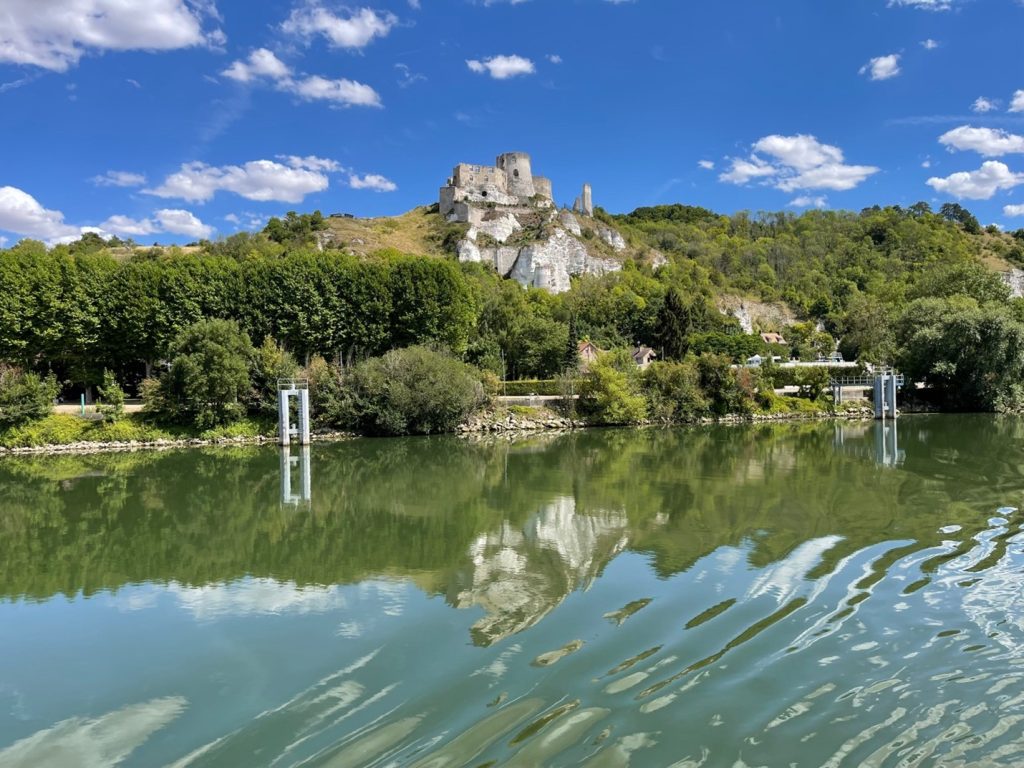 The six of us spent our final 2 days in a nice hotel near the Eiffel Tower. We were unable to get lift tickets to go up but sure got great photos of it.
The cruise finished with a bus tour of the highlights of Paris. Food on the ship was outstanding!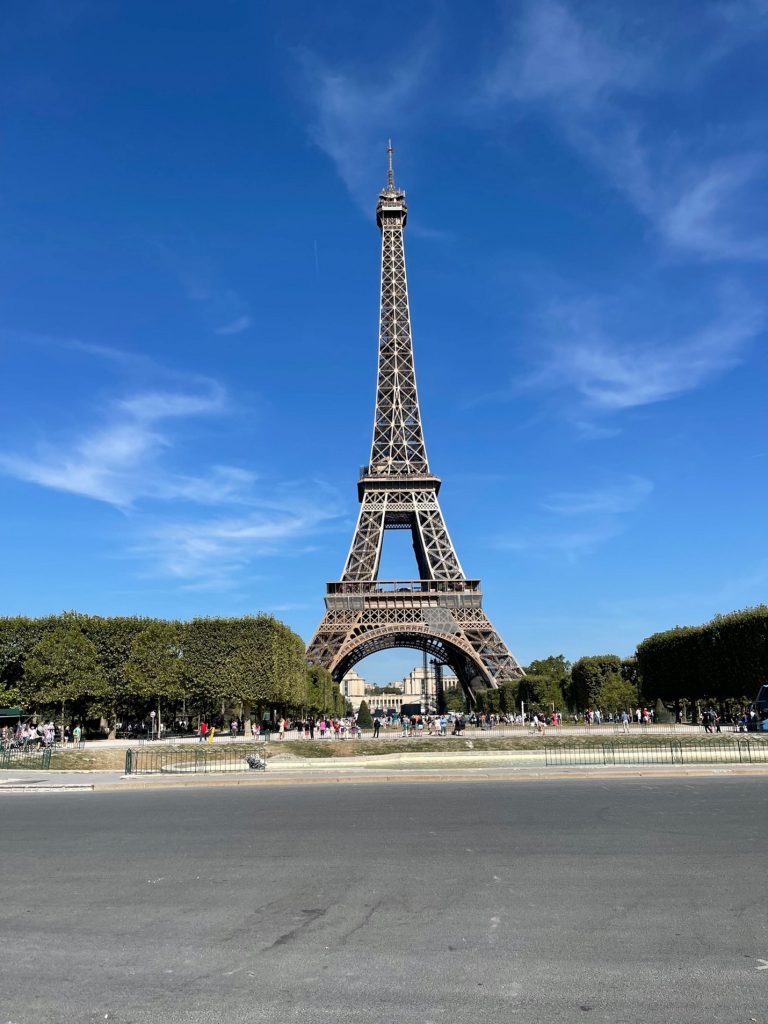 We spent one afternoon at the D'Orsay museum and the next at the Louvre.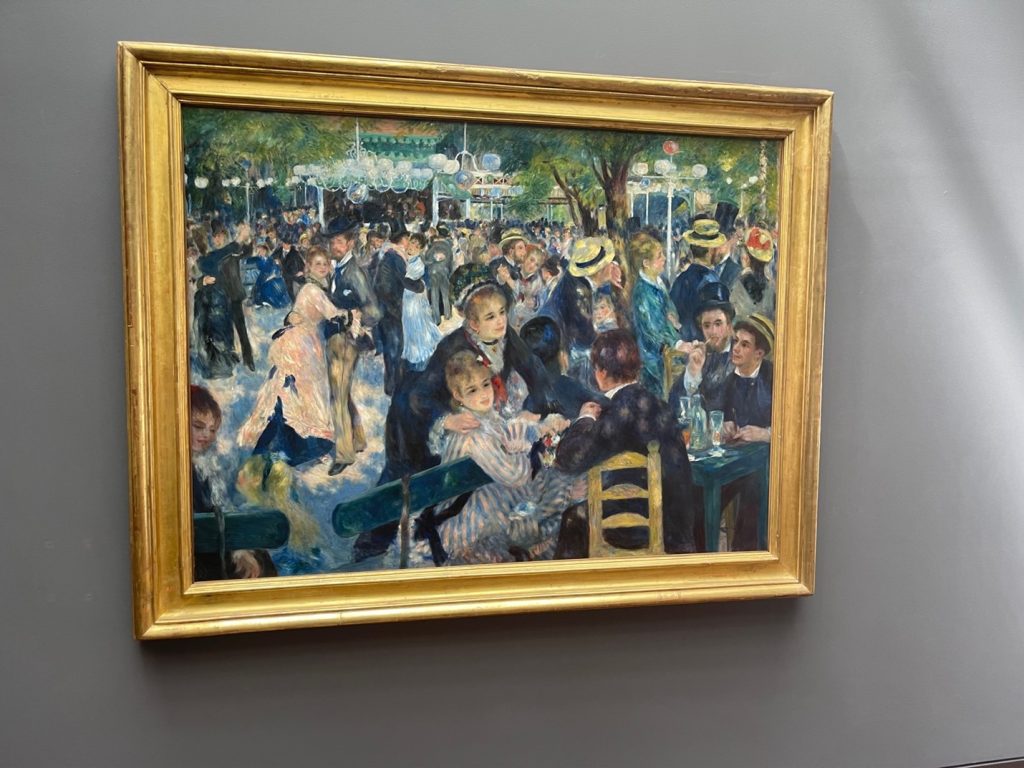 Renoir at D'Orsay Museo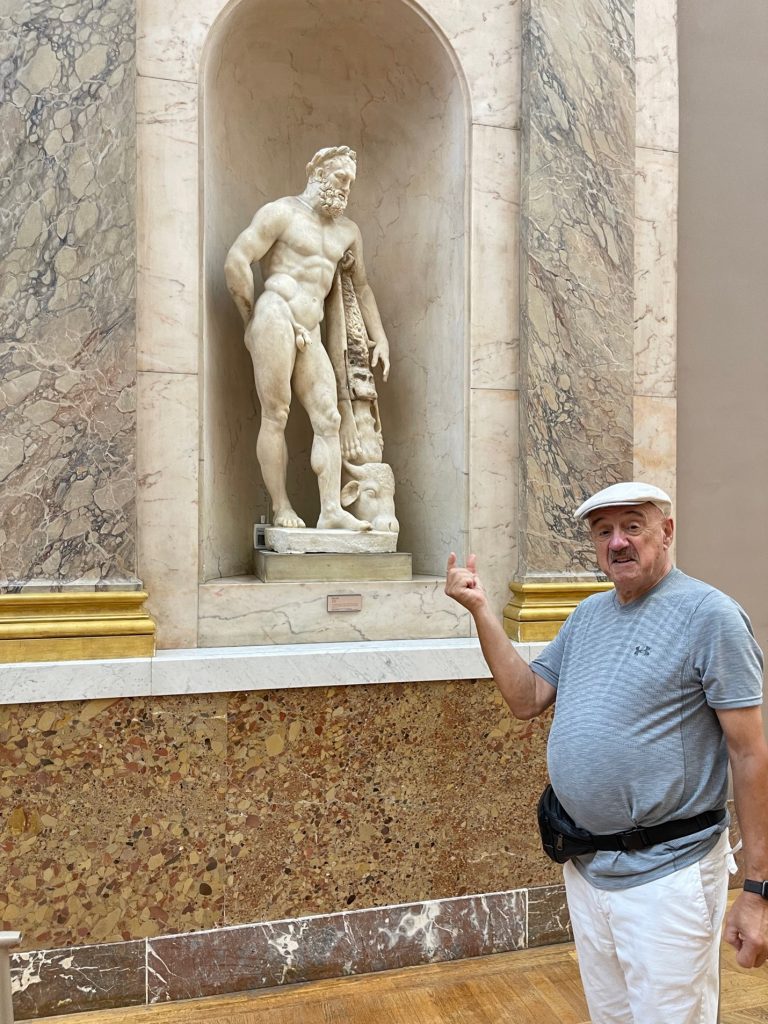 I had forgotten that the French vacation in August, so some things were closed. But Paris was super crowded with both French and foreign tourists. And those days were 'HOT". We did get some great food in Paris of course—the gastronomic capital of the world! And finally, on the last night, we got French Onion Soup!
Before we went to Europe we were really worried because, right before our trip, Europe had the hottest temperatures anyone could remember. But we lucked out. With the exception of a couple of days the weather was terrific. While the ship was comfortable we noticed that the European hotels, museums and airports have very inefficient air conditioning. We Americans are spoiled!
It's been about 20 years since we were in Paris but I noticed several important changes. Everyone seemed prosperous, well dressed and polite to tourists. The cars were new and everything was clean—and I did not see anyone smoking in public. Very refreshing!
Our entire 3 weeks were organized by our Los Angeles travel agent Herschel Wise—and it all went like clockwork.
Now, as usual, I am writing this memoir on the long direct flight back to Los Angeles—and happy to have been at Gravissimo and happy to vacation again with the Amigos. We will be off to Playa del Carmen in the Yucatán of Mexico this Christmas and New Year's.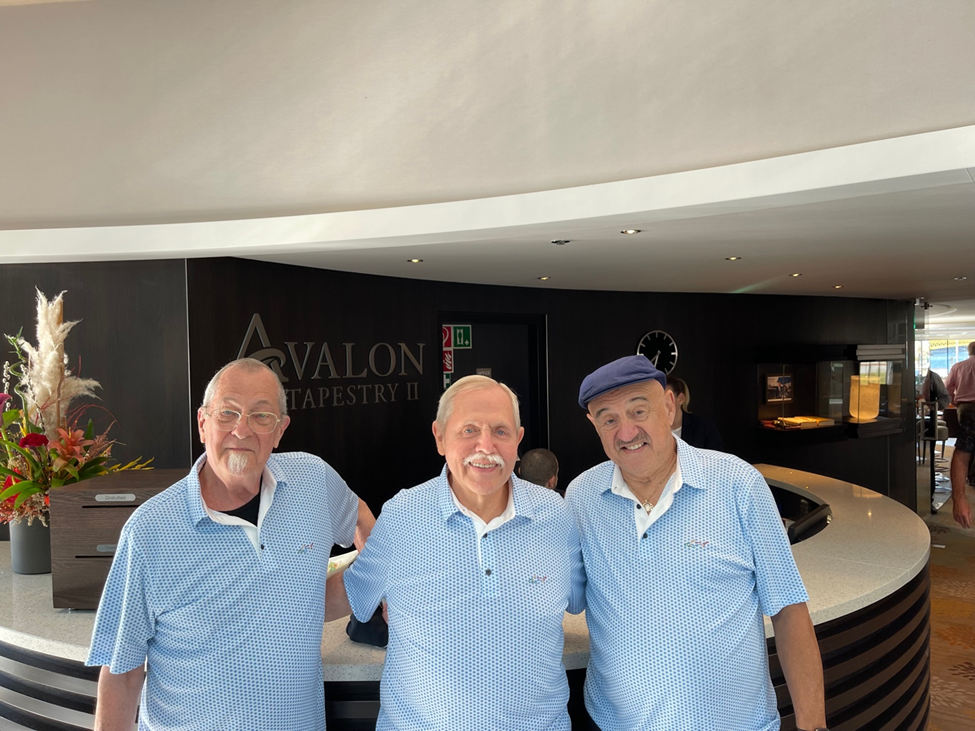 Jim Self
8/11/22