October 2023
I have just finished one of the happiest and most rewarding periods of my life. It began with a week visit by my younger brother Joe and ended last night with a super concert and tribute to me at USC.
For several years Joe and I would find a few days to "hang" together. He would either come to L.A. and San Luis Obispo with me or I would spend a few days with him in Alabama or New Orleans–but COVID interrupted the last several years and we had a lot to catch up with. Joe is a super nice man who had a successful career in business and retired in Fairhope, AL. The politics and state of America and the world in the last 8 years have been tough on both Joe and me. We are in agreement that the U.S. works best when governed from the "broad" middle. He lives in a super-conservative state and me in a super-liberal one. Just about everything in my life has recently been great but the craziness, stupidity and anti-democratic things in Washington, in state politics and the world have me scared and worried for our future. Well, Joe and I tried to solve things and (as expected) failed.
Everything else about our recent "hang" was GREAT. A few week ago I turned 80 and my best friend, Bill Booth, took me to the iconic Hollywood eatery, Musso Frank, as a birthday gift. My wife Jamie turned 90 two weeks ago so, when Joe came, the three of us celebrated her birthday at Musso Frank. The next night we attended a USC Orchestra Concerto concert (conducted by Carl St. Clair) to hear Arisa Makita, our virtuoso Euphonium student play. She won the USC concerto competition and played Phillip Sparke's Pantomime (from memory). She was spectacular!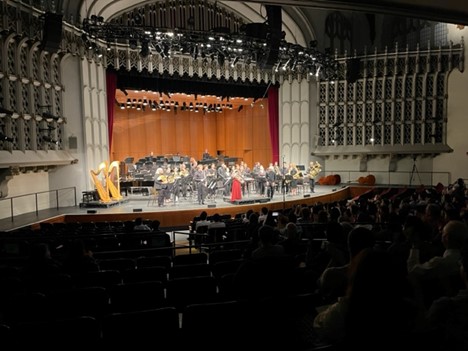 Arisa Makita
Joe and I then drove to our vacation home in San Luis Obispo. There we went to a film noir movie (Mildred Pierce), shown by the local vintage Film Club and shared a discussion afterward. We also went to the super cool Thursday night downtown Farmer's Market. The next day we did some wine tasting at local wineries. Joe is a wine buff and SLO is in the great Central Valley Wine region.
(I am lately having an aversion to alcohol, (probably a good thing). Even one drink gives me a mild hangover—I am OK with it as I do not want to have bad days (especially ones that I cause). Age is a factor too. C'est la vie!)
The next morning, Joe and I drove 5 hours to Riverside, CA to our daughter Yasmin's house. Family and friends celebrated Jamie's 90th birthday again. It was great to have my brother with us.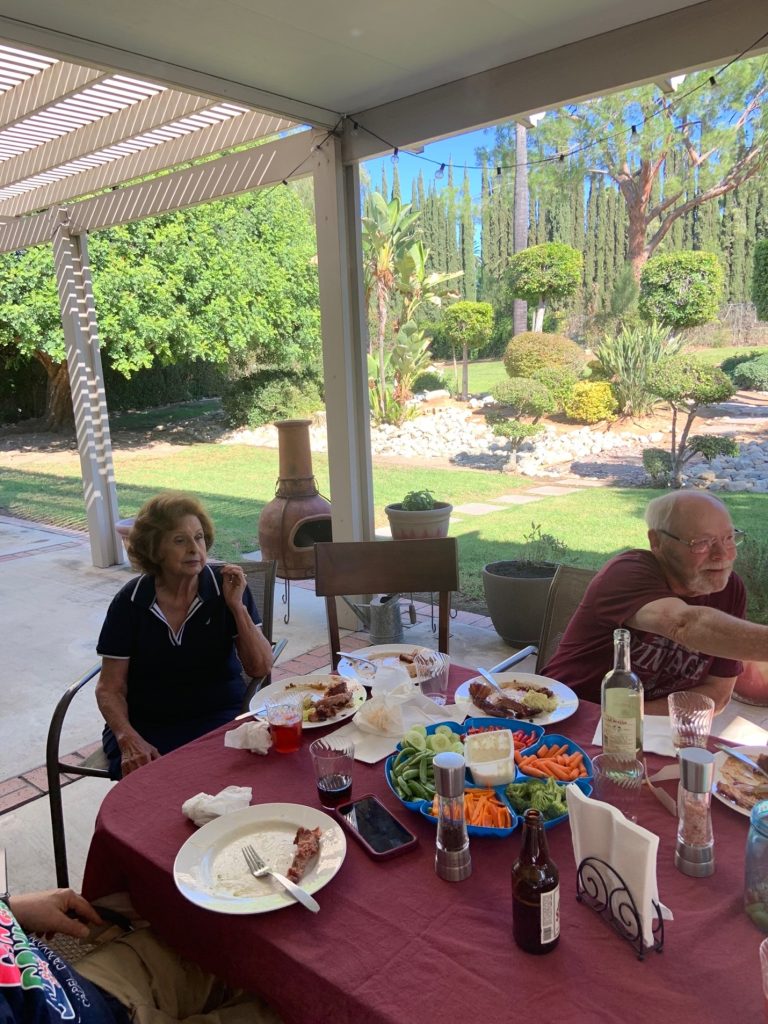 Jamie and Joe
Monday was the last day with Joe. I arranged a jazz rehearsal with John Chiodini that morning so he could listen. Joe is an amateur guitarist and great admirer of Q-dini's playing–and of our several duo Tuba/Guitar CDs.
That Sunday began a week of playing Prokofiev's 5th Symphony with the Pacific Symphony. The tuba part is the absolute best low tuba part in the repertoire. While I have been playing my new 4/4 CC Yamaha Tuba "Cecelia" on recent gigs, I decided to bring out my big 6/4 YamaYork "Monica" for the Prokofiev. It was a very satisfying week of playing.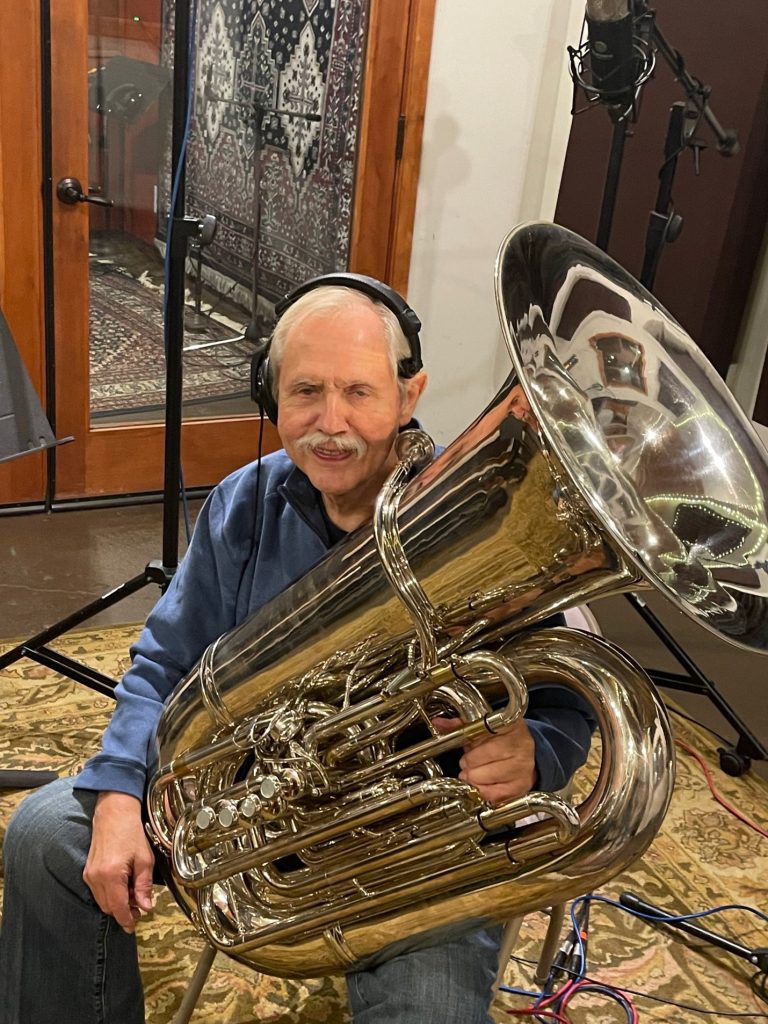 Jim and "Monica"
That Friday I attended a rehearsal of the USC Thornton Wind Ensemble–playing my major work, Tour de Force, Episodes for Wind Band-conducted by Sharon Lavery. The piece was originally written for Carl St. Clair and the Pacific Symphony and premiered in 2008. I Then made a band transcription that was premiered by H. Robert Reynolds in 2012 with the USC Thornton Wind Ensemble. I since lowered the key one whole-step to make it more band friendly. I also recently did a Brass Band Version that was recorded by James Gourlay and the Pittsburgh River City Brass. It will soon be released on a CD of my brass compositions–recorded by that wonderful band—stay tuned!
The next morning, I caught an early flight to Dallas where I was met by Kent Eschelman, Tuba/Euphonium Professor at Baylor University. We drove to Waco where I began a 4-day Residency. It was wonderful in every way.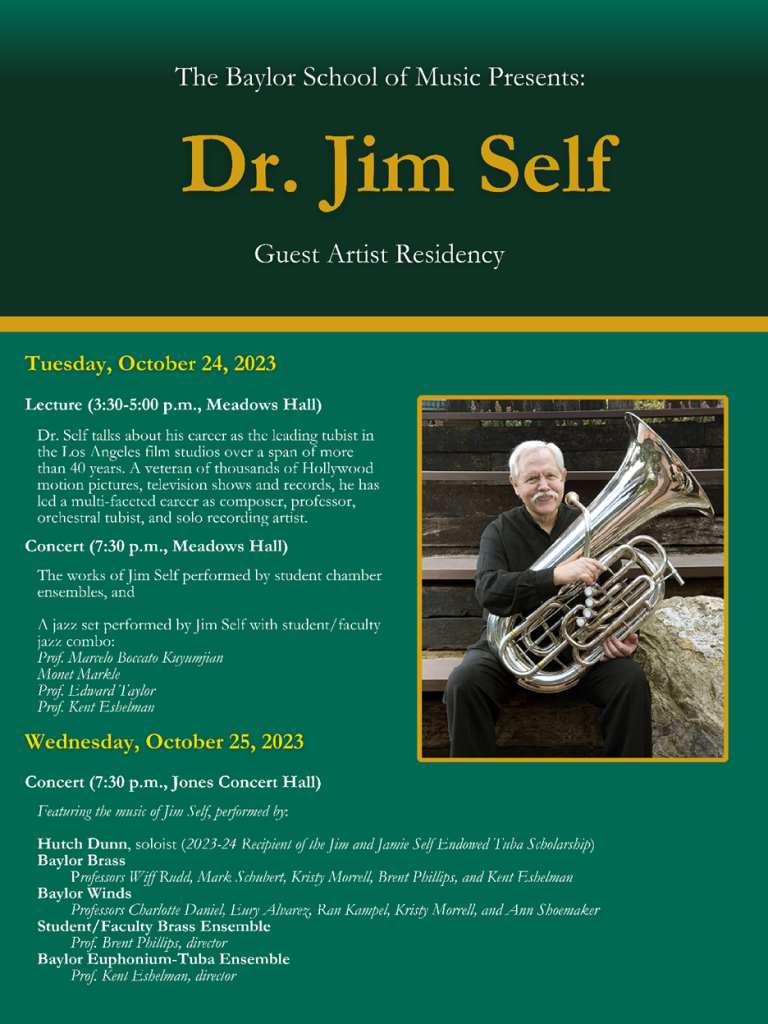 The students and faculty played two concerts of my music which included Contra-Dictions for Two Solo Tubas and 14 piece brass and percussion ensemble conducted by Trombone Professor, Brent Phillips. Kent joined me on the solo parts.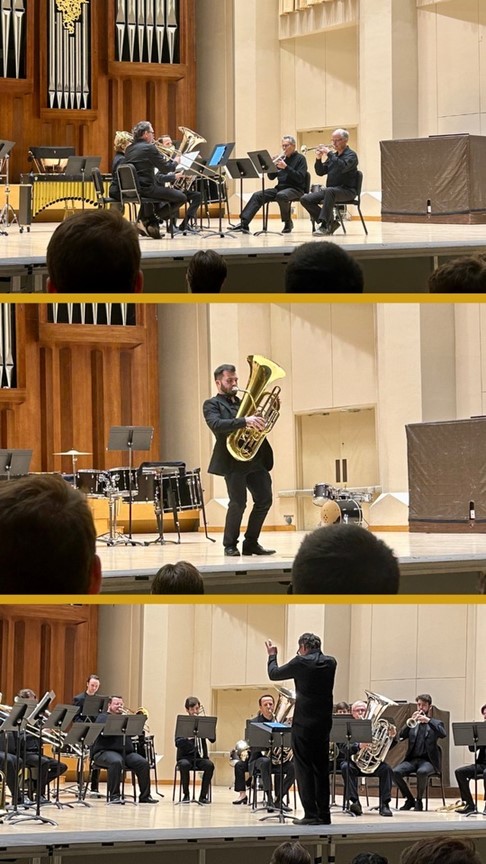 1.Faculty Brass Quintet, 2.Hutch Dunn, 3.Brent Phillips conducting Contra-Dictions
Other works performed were: Poker Chips for 4 Tubas and Vibraphone, Duh Suite for 2 Euphoniums and Drums, Vignettes with the Faculty Woodwind Quintet, HoopLA with the Faculty Brass Quintet.
The Baylor Horn Professor is Kristy Morrell and she played in both faculty quintets. For several years she was a colleague at USC and in the local orchestras and studios. Everyone loves her at Baylor.
The solo version of Polka.com was played (from memory) by Hutch Dunn,'23-24 recipient of the Jim and Jamie Self Scholarship. Tail Spins was played by a freshman Saxophone Quartet.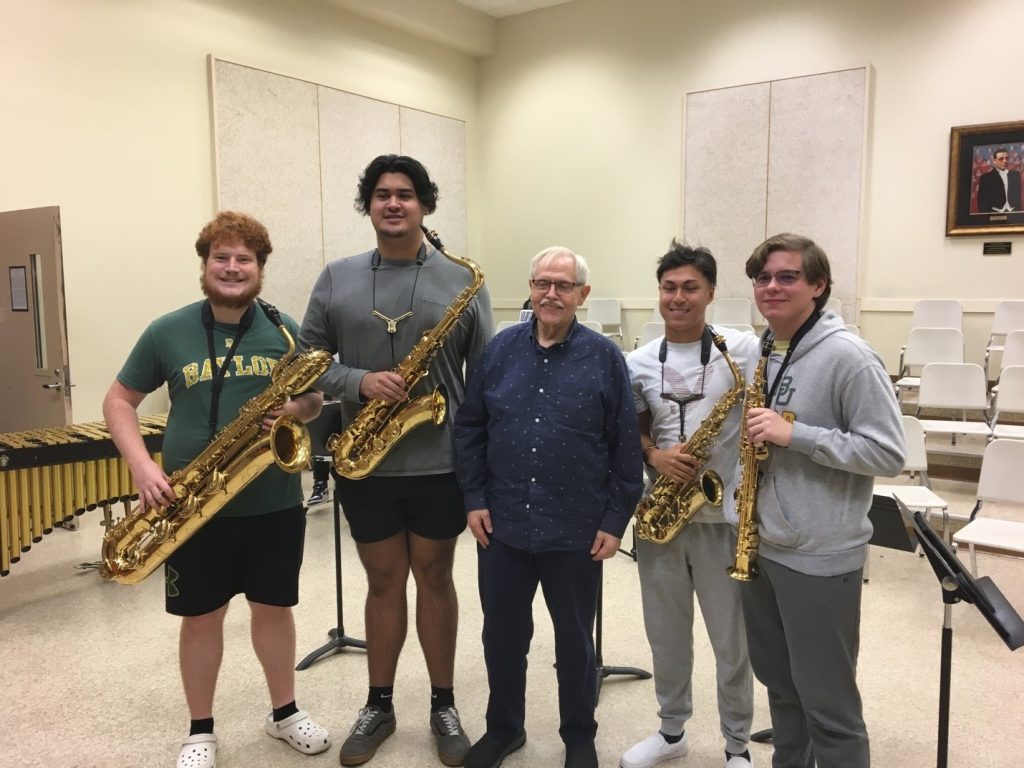 And the Baylor Euphonium-Tuba Ensemble (conducted by Dr. Eschelman) played La Morte dell Oom, Just Closer Walk, and the Finale from Tchaikovsky's Symphony 4. My music is quite challenging, but it was all played beautifully and with STYLE!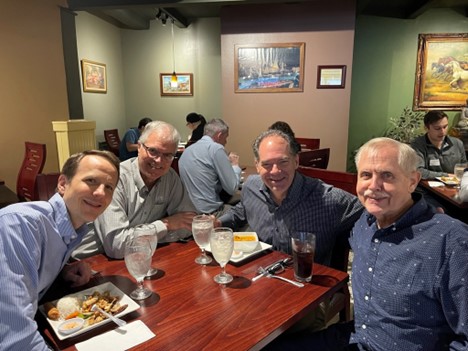 Kent, Wiff Rudd, Brent Phillips, Jim
I also played a jazz set on the Tuesday concert with the faculty trio and was joined for 2 songs by Kent (who is a terrific jazz musician). The students all took me out for food afterwards.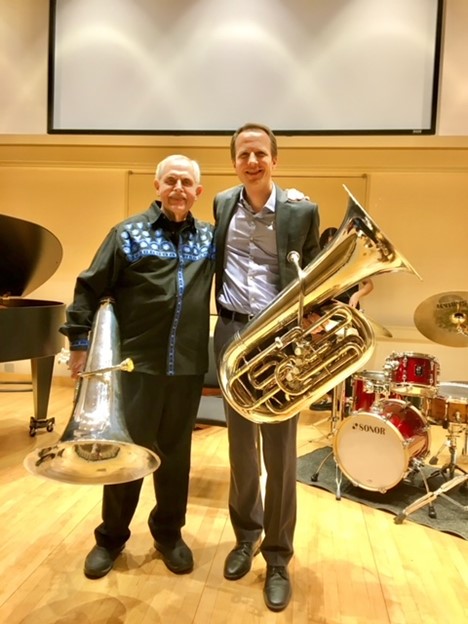 Jim and Kent
On Thursday I flew back to Burbank.
The last part of this memoir happened on Friday, October 27th. That night I was celebrated by the USC Thornton School of Music for my 48th and final year as a professor.I was overwhelmed by the evening. Our new Dean, Jason King and former Dean, Larry Livingston went on stage and gave moving retrospectives of my life and career. Then, much to my surprise, a Euphonium Quartet and a Tuba Quartet played special pieces for me.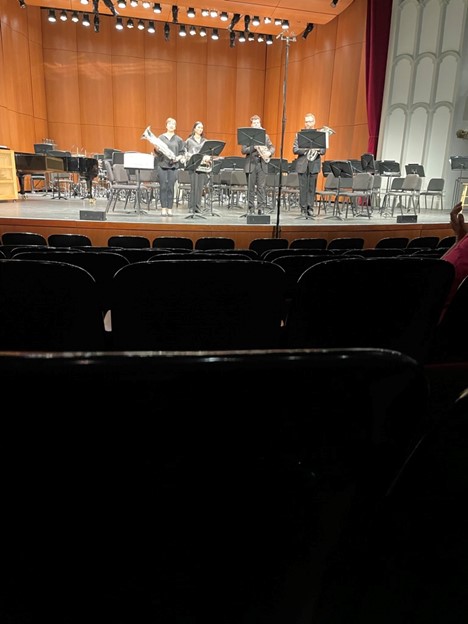 Arisa Makita, Neha Kudva, Steve Hannon, Steve Morman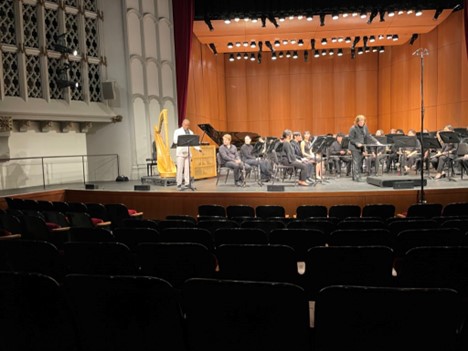 Dean, Jason King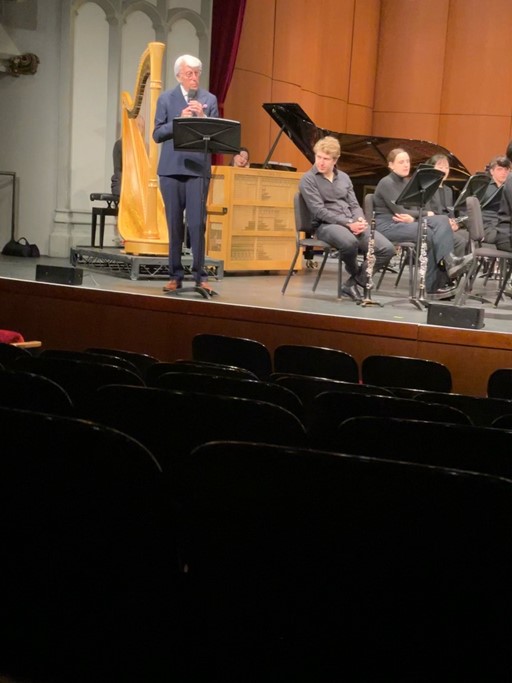 Former Dean, Larry Livingston
Then I went on stage (teary-eyed) to introduce my piece.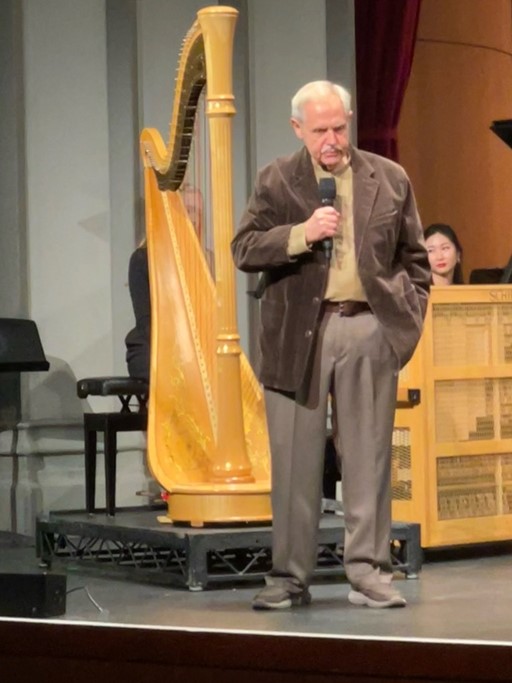 Finally, the Thornton Wind Ensemble, conducted by Professor Sharon Lavery, played a spectacular performance of Tour de Force. Afterward Dean King leaned over and told me that my piece really was a "Tour de Force"—and Dean Livingston called it "a masterpiece". Famous film composer Bruce Broughton was there https://www.facebook.com/jim.self.5/and also praised the work. A composer always wonders if their music is good, but when I get kudos from these master musicians, I know!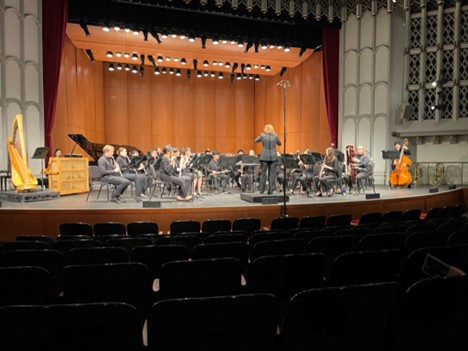 Maestra Sharon Lavery and USC/Thornton Wind Ensemble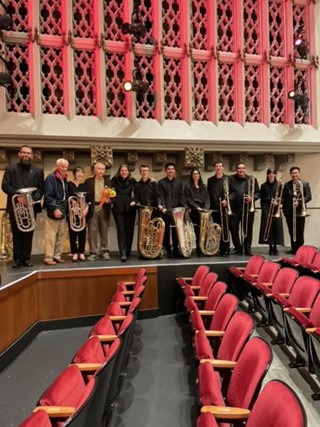 All the concert low brass + Trombone Professor, Terry Cravens, Conductor Sharon Lavery and Me
It was one of the happiest nights of my life!
Jim Self
10/24/2023