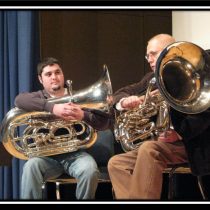 Articles
Jim recounts two weeks in early 2011 spent with playing, coaching, listening, and conducting.
The U.S. Army Band Tuba Euphonium Conference
January 2011
New England Conservatory Brass Bash
February 2011
These two events were real highlights of my life and career as musician. They took place within 2 weeks of each other and put me in situations where I could demonstrate my best playing, composing skills and clinic/master class stuff.
Last summer I took my grandson Omar to Washington DC to see our nation's capital (just as I had done at age 11). While there I decided to go to a rehearsal of The US Army Band (my alma mater) and to give a copy of Tour de Force for Wind Band to Col. Rotundi...
Read More